For many companies, staffing and managing an internal call center can be a challenging and costly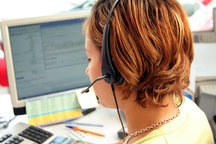 part of direct to customer businesses (as much as 3% of net sales and more). An alternative is outsourcing call center services in full, or some portion of your activities to qualified outsource call centers to support your growing business. Please understand, most of our clients are invested in internal call centers. However, we think there are cost effective and customer centric ways to use outsourcing. But it's important to perform the right level of due diligence to determine if using outsource call centers is the right choice for your business.
To help you in your decision-making process, here are 7 ways that we have found that outsourcing call center services can help companies.
Lower cost per call and order
For many small to midsize companies, outsourcing call center companies can provide a lower cost per call and order than internally managed call centers. This is especially true for companies that do not have a highly technical product that requires in-depth product knowledge, or highly technical products. In addition, you can eliminate the costs associated with having to recruit, train and retain qualified call center representatives.
Do you know what your costs are and how to compare them to outsource call centers? So often we think only about the labor rate per hour. However, to get a fair comparison internal versus outsource, you have to determine what are your total costs per transaction. These costs include your payroll and benefit costs for call center management, supervisors and agents; the occupancy costs for space and utilities; telecom; IT systems and software costs; costs of HR recruiting and training (seasonal ramp up and employee turnover), etc. Do the analysis and understand your cost per transaction, order and call.
When you compare your analysis to an outsource provider be sure all their costs are included in their quotation. This should include project time, product training costs several times per year, etc. This gives an "apples to apples" comparison.
For small to moderate sized companies, there are high peaks and low valleys in transaction volume because they may not be a four-season catalog or ecommerce business; or are stronger in one season and low volume the rest of the year. If that's you, the valleys which can be 26 or more weeks per year have high cost per transaction.
Support peak season call volumes
For many companies, recruiting, training and retaining a seasonal workforce is time consuming and costly. While you can use part time labor to staff up to volume, many companies become concerned about keeping representatives current and trained in the technology and e-commerce aspects of supporting omnichannel customers.
Outsourcing call center activities will be able to support your needs from a growth and seasonal perspective with less worry about ramping up. It is critical that you provide proper and on-going training and accurate call forecasts to your call center partner though. On-going support includes new product assortments, updated websites, promotions and changing policies.
Focus on core competencies
By outsourcing your call center functions to a qualified call center company, management has more time to focus on developing products, customer acquisition, marketing campaigns and other growth initiatives. A qualified call center company will give you the time to execute these plans and focus on your brand.
Support for after hours and overflow
Much like the seasonal support, call centers companies can help you service the customer in ways that you're not able to do with flexibility and acceptable costs. If you have higher than planned call volumes, customers will not wait. They abandon calls and shopping carts if they can't get immediate assistance.
To be efficient and competitive, companies need to invest in technology and systems. Many companies have under invested and are not staying current in technologies that provide higher service and lower costs. These include chat, VoIP, support for on-line shoppers on your web site, scheduling software, quality call monitoring systems, modern interactive training systems; etc. These don't apply to every company. The point is that the right partner will allows your company to avoid using capital in these projects and use it elsewhere.
Reduce the stress, time consuming and cost of hiring and training
Many retail and omnichannel companies do 60% to 70% of sales and a higher percent of profit in the last 6-8 weeks in the year. For a number of our food gift clients, it's their entire sales year. For companies many companies the peak is often 8 to 15 times higher at peak than average week.
Recruiting becomes time-consuming and costly endeavor. In some markets, you may not be able to find qualified call center employees at the wage rate you have budgeted. Additionally, there is always a reasonable percentage of temporary, or new representatives, that just don't make it - or decide this is not what they are looking for.
Training, IT, order entry and customer service systems, e-commerce systems, procedures and product assortments have become so complex that it requires a week or more of training; and then working in a "buddy team concept" to get the new employee's productivity up and have confidence. In the end, many companies bring in temporary and new employees a month or so in advance to gain productivity. Go back to #1 above cost per order and call – are all these costs taken into account in your analysis?
There are many good outsourcing call center companies out there. As we travel around we see many large retail and e-commerce businesses outsourcing part or all their work. Why? When we talk to the business owners, it's about these factors discussed above. The company management is free to spend more time on marketing and merchandising – time spent in growing their business. We would also argue you don't have to give up all your call center work – many companies keep the customer service aspects in-house where they can take the pulse of the customer.