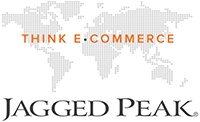 Jagged Peak is an eCommerce solutions provider offering enterprise software and services designed to enhance the scalability and profitability of a company's eCommerce enterprise.
FlexNet® is an eCommerce fulfillment solution that leverages Jagged Peak's integrated technology, logistics infrastructure and 3PL partner network to deliver a multi-point, optimized fulfillment solution. For clients, the guarantee is orders delivered faster, at a much lower cost. Unlike traditional 3PL service offerings, Jagged Peak's FlexNet fulfillment solution is not constrained by its own distribution center locations and capacities. Instead we utilize strategically located third party service providers or your own inventory locations to fulfill orders using our web-based order management (OMS), warehouse (WMS) and transportation management (TMS) technologies.
Source and Fulfill orders from our DC's, Yours or Any Location Inventory Exists
This unique "flexible" distribution model can source and fulfill orders wherever inventory exists – Jagged Peak's DC's, your DC's, manufacturing plants, or retail stores. Jagged Peak's DC network is comprised of certified facilities in North America, Europe and APAC regions and is ideal for branded product manufacturers and omnichannel retailers who require a flexible fulfillment solution that can be rapidly deployed and configured to accommodate sales growth, market expansion and changes in the company's order delivery footprint. Adding or removing a location can be accomplished in a matter of days, instead of weeks.

Optimized orders, Optimized inventory, Optimized delivery
The EDGE OMS and fully integrated WMS and TMS work in tandem to ensure an optimized order fulfillment process. The EDGE OMS captures and aggregates all order types from multiple sources (websites, call centers, retailers, marketplaces, trading accounts). EDGE sources orders to the optimal fulfillment point based on configurable business rules that include inventory availability, customer proximity and the delivery promise date. The integrated Warehouse/Inventory Management System (WMS) monitors inventory and warehouse activities to ensure inventory allocation and real-time availability to promise (ATP). Finally, integrated multi-carrier Transportation Management System (TMS) uses a proprietary Least-Cost Routing (LCR) algorithm to automatically select the lowest-cost shipping method to meet the customer promise date.