In doing some research for a client looking to get started on an order management system project, we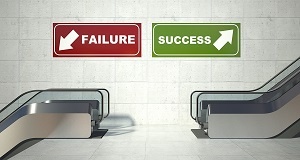 came across a study that was conducted of 800 senior IT managers from the United States, England, France, Germany, India, Japan and Singapore. The study revealed:
62% of the IT projects failed to meet their company's schedule

49% experienced budget overruns

47% experienced higher than expected maintenance costs

41% failed to deliver the expected business value and return on investment
Although this study is a few years old, it is consistent with other studies we see published about IT project management. Since 1983, our order management system consulting has identified 20+ major problems which cause these failures in systems projects.
What Are the Reasons For A System Project Failure?
From our experience, we have divided the reasons or causes into three categories: a) common causes no matter if in-house or commercial systems; b) for in-house developed systems; and c) for commercial systems.
The failures are as follows:
Common Causes No Matter if In-House or Commercial Systems
Scope creep for the project

Ineffective or poor communication among the project team and with management

Failure to deliver needed functionality

Failure to deliver on time

Failure to deliver within budget

"Big Bang" replacement strategy of all systems at once usually back fires

Lack of a detailed plan, failure to schedule project status updates on regular basis

Lack of effective and sufficient testing and validation; unit, system testing, user acceptance or conference room pilot testing

Treating the project as an IT project rather than getting total buy in and making task responsibility and accountability assignments

Lack of contingency planning

Lack of sign-offs and approvals at key steps

Management does not commit the appropriate resources

Lack of strong and effective Project Management
In-House Developed Systems
Development never reaches high percent completion

Underestimate scope

Underestimate resources required

Overstate in-house abilities

IT management fails to understand fully the business requirements

There is no formal review and signoff process by the users before anything proceeds
Commercially Available Systems
Poor "application and/or process fit" for business

Making too many modifications which increases cost, risk and project delay

Failure to use a high percent of standard commercial system functionality

Turning over project management to the vendors

Failure by vendor to dedicate sufficient resources
Assess Your Company's Risk and Readiness
In order for you and your company to be successful at implementing a new order management system you need to assess the risk and readiness of your company before you commit to a major system project. An objective, dispassionate assessment and proper planning will help reduce or eliminate many of these problems.
In order to effectively complete an objective assessment of the risk and readiness of your company, you will need to approach all departments within your company that will be affected by the new system. Your IT department is a great place to start reviewing. Here are a few points to think about:
Review with your IT department any lists of open requests for needed functionality and anticipated new peripheral systems currently being made by departments within the company.

Review with your IT department their perspective on how well they can support a new order management system, and the means available and required to maintain the system in the future.

Review with your IT department and come to an agreement on how to develop the cost and schedule for the future system.

Review with your IT department the feedback from all departments affected by the new system on any future system requirements requested.

Review with your IT department all integration points for the new order management system with internal systems and 3rd party (external) service bureaus and systems.
Don't stop there though. This is just the tip of the iceberg for a risk and readiness assessment of your company. Remain objective and unemotional and you will be on your way to a successful risk and readiness assessment of your company.