Many managers look only at the negatives when talking about warehouse productivity. But, most people want to be in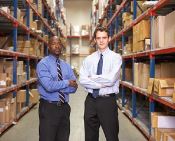 alignment with your productivity goals and to contribute in meaningful ways to the success of your business.

As I conduct an operational assessment with companies focusing on benchmarking and productivity, I find many companies do not openly share their warehouse KPIs and results with employees. Many don't even have a formal, weekly process for capturing and reporting the KPIs. Those that do a good job of the weekly reporting often don't have department and individual employee productivity goals and don't publicly publish the results. You can't improve something you haven't measured.
Read More >