In Logistics and supply chain management (SCM), Third-Party Logistics (3PL) is the outsourcing of business processes and systems to third-party businesses for a company's warehousing, fulfillment and distribution. These services vary depending on a company's objectives and requirements. Services may include:
inbound product and outbound freight management
warehousing processes of receiving and storing product
fulfillment of customer orders
returns processing (also called reverse logistics)
The backbone of 3PL processes and services are its Information Technology (IT) systems.
Many companies look to a 3PL partner to manage their Supply Chain. Supply Chain Management includes all of the business processes, systems, and services needed to move raw materials and finished product from manufacturers to retailers, distributors, and customers.
A typical Supply Chain including Warehousing, Distribution, Information Technology and Transportation Services includes:
Electronic and manual processes of placing purchase orders for product such as communication of advanced shipping notices (ASN) and EDI functions;
Inbound freight services, consolidation, and routing/carrier management; real-time inbound visibility; and dock scheduling;
Receipt of customer orders from websites, portals, contact centers, and salespeople;
Four walls warehouse operation for processes and warehouse management systems (WMS) including:

Merchandise receiving, checking, quality assurance of product, and vendor compliance enforcement;
Marking and packaging product to requirements (retail, ecommerce, etc.);
Pick, pack, and shipping of customer orders;
Stock put away and forward stock replenishment;
Value-added services (such as kitting and monogramming);
DC inventory control, inventory audit trail, and cycle counting;
Reverse logistics and return processing of customer credits/refunds, and merchandise disposition.

Outbound transportation services to the end users and customers according to the customer's expectations of delivery time and cost. Various shipping modes, including small parcel, palletized LTL, and partial or full TL.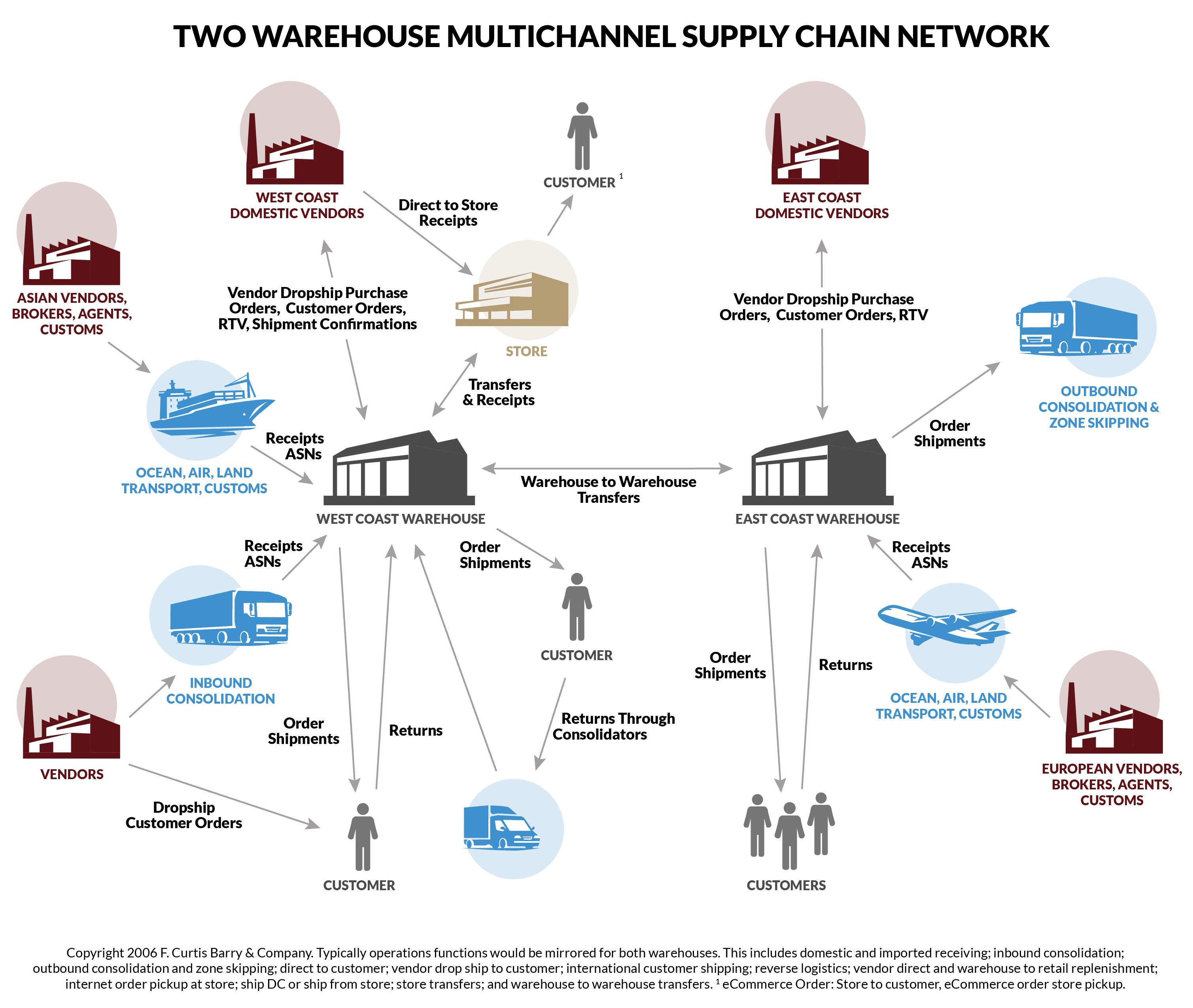 In Supply Chain jargon, you may hear 3PL called Third-Party Fulfillment (3PF) or outsourcing. Another Supply Chain concept, known as Fourth-Party Logistics (4PL), involves a consultancy or business process company which contracts with a business to select and manage all the processes, systems and services for the company's entire supply chain. The 4PL contractor may or may not own the outsource service providers that are used.
This page explains many details important to selecting, contracting, and implementing 3PL fulfillment:
How multichannel businesses profitably use 3PL services
Selecting the right 3PL service for your business
How to compare internal fulfillment costs to 3PL proposed costs
How to build and maintain a strong 3PL relationship
How to transition to a 3PL service
Contracting with 3PL companies
How using a 3PL service saves you money
In our work with multichannel companies using 3PL, we see 12 major cost saving and strategic benefits of using a 3PL service. As companies grow, in order to become more efficient and increase in sales, fulfillment centers and their Supply Chain must invest in:
warehouse facilities;
bar-code processes;
warehouse management systems (WMS);
technology (such as electronic document exchange of purchase orders, ASNs and invoices; voice directed data entry and picking);
sortation and conveyance systems.
Using a 3PL can greatly reduce the capital required to expand and increase sales. Third-Party Logistics gives you the infrastructure, management, and workforce to grow sales without adding employees, facilities, and systems.
Third-Party Logistics can reduce fulfillment costs and stabilize expenses as a business grows. Since 3PLs charge for their services on the basis of usage, you should expect your invoiced costs to rise and fall based on use and transaction volume, the space required, and services used. Another way to think about this is, by using 3PL, you turn the fixed costs of facilities, systems, and automation assets into a variable cost.
Additionally, by selecting a 3PL that has strategically located fulfillment facilities with additional inventory, you can reduce order fulfillment time to customer and shipping expenses.
Outsourcing Supply Chain Management to Third-Party Logistics companies gives management the time to focus on core competencies, such as:
brand and Internet marketing,
developing other sales channels;
expansion of merchandise assortment;
starting and growing businesses.
How to select the right 3PL service
There are thousands of Third-Party Logistics providers. How do you select the provider that's right for your business? At a high level, here are the steps we recommend following to select and contract with a 3PL:
Determine management's multi-year fulfillment objectives
Analyze your business at a detailed level to get accurate pricing for current and future years
Use a Request for Proposal (RFP) for competitive biddings, including pricing and services
Identify a qualified short list of 3PL vendors
Select two finalists
Complete due diligence through reference checks and site visits
Contract with the 3PL finalist
As you think about management's objectives, turn those into the business statistics, process and systems requirements for the prospective 3PL.
One of the major factors in 3PL selection is the proposed fulfillment costs for the current year's business and projecting the fulfillment details forward three years. These costs and details are used by the 3PL to estimate the cost of services.
Total fulfillment costs are based on five categories of costs:
At the heart of accurate pricing is collecting, analyzing, and projecting the details of your fulfillment operation for the expected contract duration to get accurate costs by year.

How to compare your internal fulfillment costs to 3PL proposed costs
During the selection process, it is important to compare 3PL costs to your internal expenses, carton shipped costs, and percent to net sales and cost per order. The competitive bid process using the RFP will solicit the vendors' proposed costs.
An important component of the decision matrix of vendor responses is how you will compare internal fulfillment expenses to proposed 3PL vendors. Most fulfillment centers do not publish a fully loaded cost per order in their internal reports. In order to get an accurate "apples-to-apples" comparison, make sure you arrived at fully loaded costs for both options.
For example, fulfillment managers using internal fulfillment approve expenses for leases monthly, but generally don't incorporate them into their cost per order thinking. This may represent 15% to 20% of the fully loaded costs. They rightfully focus on costs they can control that impact order processing, such as direct labor and packing supplies.
To be comparable, a fully loaded cost includes:
lease costs
depreciation or amortization of facilities, systems and assets
IT costs or allocation of management expenses
Will a 3PL partnership allow you to avoid facility expansion or a move to new facility, or eliminate projects requiring capital expenditures for technology and automation? If so, a 3PL strategy may positively affect your company's future growth, the capital needed and business requirements. Include this in your analysis and comparison between internal and 3PL costs.
How to build and maintain a strong 3PL relationship
Many new users are concerned about turning over a critical part of their customer service business – order fulfillment and warehousing -- to an outside party. They're afraid that 3PL will be costly, and that low service will destroy their business. Many of our clients outsource fulfillment cost-effectively by managing 11 key indicators important to keeping 3PL service at high levels.
An important aspect to making this work effectively is developing a strong partnership with the 3PL's management and ownership. Give them every opportunity to help you understand and help grow your business. Be open with your strategic objectives, what the merchandise direction will be in the future, and the sales plans you wish to achieve.
One recommendation for keeping service high and costs in line is to write measurable standards into the contract. Every month have a brief standing call where your senior management and the 3PL review the successes and areas of needed improvement. While liaisons between companies will be meeting via phone and email daily, it's crucial for management of your company and the 3PL to step back and briefly take the check point monthly.
How to transition to a 3PL service
Project planning and management is critical to implementing the 3PL transition. Some projects take 90 days while others take four or five months. During that time, you'll need a full-time project manager to plan out and track the status of the tasks daily and report to all stakeholders weekly. This is not the responsibility of the vendor, although they will keep you updated on the status of their tasks.
Another major task in making this transition is planning and executing the move of inventory to the 3PL. This involves counting, preparing, palletizing, transporting, and efficiently putting the inventory away in the new facility with high accuracy. It also includes minimizing shipping downtime.
The backbone of the 3PL outsourcing is the IT systems implementation for services such as: electronic document exchange (purchase orders, ASNs and invoices); interfaces to your corporate systems; and selling portals such as Amazon and eBay you sell on; and vendor compliance processes with "big box stores" if you sell as a wholesaler.
In every case, the 3PL processes have to be set up for you in terms of processes for:
inbound inspection of product
customer packing standards
returns processing
refurbishing of product if necessary
In order to get the processes you want, you need to work closely with the 3PL, sharing your documentation and standards.

How to negotiate a 3PL contract
Once you select a 3PL vendor, you will negotiate, develop contract language and work towards signing a mutually beneficial contract that memorializes all of the verbal and proposal promises.

For standard legal language, the 3PL will likely use a contract which is standard among its clients (known as a "master agreement) which vendors will resist changing. Addendums to the master agreement are your opportunity to customize the contract to your business. Typical addendums include the statement of work, pricing, standards for performance, processing procedures and schedules. Spend the time analyzing and planning the three years' business proforma so that you don't incur higher costs than expected.

One of the most critical aspects in any 3PL contract is the language surrounding pricing and rate increases. It is vital to ensure that the language is fair for both the customer, as well as the 3PL. Negotiating the agreement takes time and a combination of business sense and legal guidance.
You'll want to discuss the contract with all stakeholders, upper management, and your attorney. Speaking with an experienced 3PL consultant can help you think through the consequences of various actions and potential problems.
Summary
Many multichannel and e-commerce businesses use profitably 3PL for fulfillment and distribution. Third-Party Fulfillment can reduce the capital required to grow your business and reduce/stabilize costs. To do so, you must clearly identify your business requirements and key data about your business and project these forward three years.
Establishing a positive relationship with a 3PL requires good planning and control. Service levels and management processes should become part of contractual agreements to keep customer service high and at the budget you expected. Using an experienced 3PL fulfillment consultant can help you select and implement the right service provider to gain the benefits discussed.
Additional 3PL resources from

F. Curtis Barry & Company
As part of 3PL Selection Projects, F. Curtis Barry & Company helps businesses identify their requirements and a short list of qualified vendors for your business. Click here for some 3PL providers you should consider researching their capabilities.
Of course, if your business is considering the transition to a 3PL and you'd like expert assistance considering, planning and navigating that transition, we're available to help. You can request information here or click the button to below to start the conversation.