In our role as fulfillment and warehouse consultants we assist clients with operating more efficiently in all areas of warehousing and distribution. Our services run the gamut from developing corporate fulfillment strategies to designing warehouse layouts to selecting and launching warehouse management systems. The development of fulfillment requirements and qualitative and quantitative evaluations and comparisons between various options are what we do as fulfillment consultants.
Our warehouse assessment provides recommendations for the client's cost structure, staffing, systems, and facilities in order to develop the most appropriate ways to improve a client's business, across several areas or on specific projects. Learn more about how a Cost Savings Warehouse Assessment can generate a fast ROI.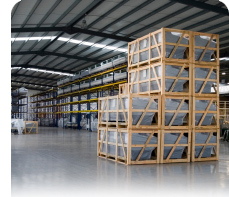 We provide a whole host of services for warehouse layout and design; including analyzing and developing product flow, sourcing and budgeting for fixture and material handling equipment needs as well as detail CAD drawings of your facility.
Warehouse Site Location Studies
We assist our clients with selecting a new warehouse site location. We analyze in depth factors such as occupancy and labor costs, labor and facility availability, proximity to your customers, inbound and outbound shipping costs, etc. No matter if it is selecting a new single warehouse location, or keeping your current warehouse and adding an additional location(s); we can help.
We assist our clients in evaluating and contracting for third party logistics and fulfillment outsourcing. We have performed many detail studies, analyses and cost comparisons relating to different fulfillment options. We also assist with contract review, transition planning and implementation to the selected service provider; as well as establishing in-house operations in order to move away from outsourcing.
Our Competitive Advantage for Warehouse Consultants
We take a collaborative approach to working with our clients. The client defines the work to be done. Our experience in working with start-ups to large, multichannel businesses allows us to provide clients with practical guidance that helps them manage their businesses better. We listen carefully to what clients want and then keep them involved throughout the different steps of the consulting process. Discover the six reasons why our clients hire us.
To learn more about how we can help your business, please contact us. You'll find we are the experienced warehouse and fulfillment consultants of choice. Give us a call at (804) 740-8743, e-mail at info@fcbco.com. or complete our Request Information form and we will be in touch as quickly as possible.