Warehouse Strategy Ideas for Improved Warehouse Operations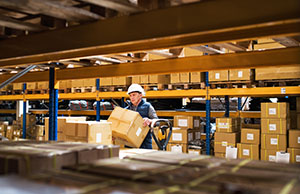 Supply chains, distribution centers, and warehouses must operate as efficiently as possible day to day. With labor, transportation and facility costs continually rising, it is important to think about how to optimize the operations.
As warehouse consultants, we are continually helping companies to unlock their full potential. The following warehouse strategies are designed to help your warehouse operations reduce costs and improve customer service.
1. Always focus efforts on where you spend the most in labor.
When considering changes, prioritize those departments where you spend the most in labor. For many, this is in picking, packing, and shipping. For others, it might be a significant amount of kitting or light assembly that consumes the labor costs.
Ensure that these functional areas have the right amount of space, supervision, and systems support to keep costs inline. Eliminate unnecessary steps and walking where it's not needed. Also implement metrics that allow you to understand if you are trending in the right direction. Consider automation to eliminate unnecessary labor costs.
2. Invest and utilize the right Warehouse Management Systems (WMS).
Systems control all aspects in the distribution center, a good system will allow you to maximize efficiency and drive down costs. The wrong system will drive-up costs and require more labor than necessary to perform the same actions.
Unfortunately, many companies remain on the same ineffective system for longer than feasible. One of the most critical decisions is when to invest in a new system for the warehouse operations.
3. Continually optimize the stock locations to maximize space and utilization of the facility.
It is not uncommon for distribution centers to have a one size fits all approach to stock locations. Unfortunately, this means that many locations not the right size, and locations aren't maximized. Evaluate both bulk and picking locations to ensure that they are properly sized.
Avoid using a one size fits all approach. If locations are too tall, or too deep, create smaller bins. This will allow for more locations overall. Review locations at least quarterly to ensure locations are optimal.
4. Utilize outside 3PLs to support various functions.
3PLs can support all facets of distribution from order fulfillment to bulk storage. Many 3PLs also support value added services such as kitting and light assembly, product reconditioning and returns management.
If you are pressed for space, or labor, consider how a 3PL can help support your operations. 3PLs also help to avoid a costly warehouse move, investments in systems and trouble with sourcing labor. This is one warehouse strategy that can easily evaluated against the current operations.
5. Implement internal metrics and KPIs.
It is critical that all operations professionals know their numbers, and how the warehouse operations are performing. This means having a wide range of operational metrics and KPI's to monitor trends. These metrics and KPIs need to focus on
Cost based metrics such as fulfillment cost per order, cost per unit picked, etc.
Throughput and efficiency metrics such as lines picked per man hour and cartons shipped per man hour.
Accuracy metrics including order accuracy and inventory accuracy.
Reinforce the importance of these metrics with the staff. Help them understand why each metric matters and how it is used. Integrate the use of these metrics and their importance into your daily processes and team building. Metrics and KPIs are an important warehouse strategy for managing costs.
6. Manage warehouse inventory more effectively.
As distribution centers become more congested, managing warehouse inventory becomes more critical. Companies must identify excess inventory and aged inventory, and its impact on space. While warehouse operations may have no input as to writing off this inventory, it can certainly manage where the inventory resides. From a warehouse strategy perspective, the operations must be proactive in managing this aspect of inventory.
Be sure to remove these units of inventory from optimal locations in the facility. Utilize the upper storage levels for these units. Also, consolidate these units down into as few locations as possible. Ensure that each SKU and the quantity are properly tagged.
This will make it easier to locate and scrap when it is written off. Put in place reporting to quantify the impacts on space to report to management.
7. Consolidate bulk storage locations when possible.
When bulk locations are continual replenished from, there is something called the "honeycomb" effect. This is when locations become partially consumed, leaving many locations partially empty for periods of time. This consumes space and restricts the use of those locations. These become even more problematic as the lifecycle of SKUs declines and small quantities are left in bulk locations.
By consolidating these quantities, effective warehouse operations can use the space more efficiently long term. Inventory for the same SKU can be consolidated down, as well as combining multiple SKUs into a location. If your WMS does not have this capability, consider what reporting can be developed to support this. These is typically one of the easier warehousing strategies to implement.
8. Hire a disciplined inventory control department.
Unfortunately, it is not uncommon for companies to understaff an inventory control department. Within most companies, the right people in inventory control will keep your company from experiencing many common operational problems. As companies grow, they must consider how to support the processes needed, such as:
Cycle counting of inventory and managing physical inventories.
Bin management including creating stock locations, replenishment frequency, assigning bin locations for new SKUs and slotting.
Auditing and troubleshooting problems that arise from putaway, replenishments, picking and stock transfers.
Bulk consolidations to increase capacity and utilization.
While these are just a few areas that the department supports, the department more than pays for itself.
9. Automate all areas as much as possible.
Labor costs, availability and reliability have been a struggle for distribution centers long before the pandemic. Companies often wait too long to begin considering what functions could be or should be automated. Automation can greatly alleviate the challenges with distribution labor and lower operating costs.
Automation projects are not always multi-year, multi-million dollar initiatives. Work with a warehouse consultant to understand what areas of the operations could be automated. Options typically include storage, order picking, packing and shipping lines.
10. Streamline all processes as much as possible.
Even with a good WMS, companies create processes in the distribution center that become bloated with unnecessary steps. These processes tend to evolve over time without ever taking a step back to consider changes. When this occurs, companies tend to spend more in labor costs than necessary to complete the same tasks.
Begin by mapping out the processes, do this for each functional area one at a time. By laying out each step in a flow chart you can identify excess touch points that should be eliminated. Also identify steps that do not add value to the organization.
Be sure to train on the new processes and reinforce the desired outcomes to increase productivity. Warehousing operations must have a mindset of continual process improvement, and refining processes is a necessary aspect. From a warehouse strategy perspective, this is one of the most important.
11. Continually adjust the layout and design as your business grows.
As your business grows, the space needs by functional area also change. The distribution center must be dynamic and evolve with the business. This means continually adjusting the warehouse layout and design to accommodate these changes.
Many companies tend to grow the storage or order picking but keep constraints on the shipping and receiving docks for instance. If your layout and design aren't changing, you most likely are experiencing issues with the flow through the facility. This tends to also drive-up congestion and labor costs due to inefficiency.
12. Optimize stock replenishments.
Successful warehouse operations tend to prioritize optimizing picking, packing and shipping – but you can't ignore optimizing replenishments. Stock-outs in the pick location drive-up order picking costs, and risk not getting all the customer demand shipped. Not having at least 2 to 3 days of stock in the pick location can unnecessarily drive-up labor for replenishments. This can also create issues such as pulling less than case quantities to restock a location.
Use your WMS to optimize the pulling of inventory for replenishments to minimize excessive travel when performing these tasks. Only an emergency replenishment should be done during picking hours to minimize problems.
Properly staff your inventory control department so that someone is accountable for reviewing the stock on hand in a location. Identifying locations that cause excessive replenishments reduces the number of downstream problems.
13. Implement barcoding throughout all functions.
By utilizing barcodes throughout, companies can become much more efficient and accurate in the transactions. Barcodes eliminate batch processes as well as written worksheets for receiving and putaway which can delay other tasks. In addition, barcodes allow for the highest degree of accuracy for inventory and customer orders.
When shifting towards automation, barcoding becomes an important aspect to maximizing your ROI. If your system does not support barcoding, you must consider how a new WMS will allow you to become more efficient.
14. Process customer returns efficiently.
Mismanaging customer returns is one of the fastest ways to lose customers. Companies tend to find a place to squeeze in a returns area which can also cause efficiency concerns. Best practice is for customer returns to be processed within 24 to 36 hours from the time of receipt. For those companies that experience a significant volume of returns during peak, consider a two-step process.
The first step is supporting the customer refund or exchange. And the second step being the inventory processing and putaway. This will allow you to manage the customers' expectations more effectively. Companies must also consider:
How to remove the large amount of recycling and trash that is generated in returns. Can you install a simple takeaway conveyor for instance?
How can you streamline any product refurbishment or reconditioning that is needed?
How to consolidate all inventory returning to stock, by zone or aisle so it is handled efficiently?