Like many consumers, you may indeed still be anxiously awaiting gifts for family and friends due to the record-breaking parcel volumes shipped during this past holiday season. Whether you are a retailer, manufacturer, or eCommerce shipper, 2020 has no doubt been a challenging year for most from a Supply Chain perspective. With the record parcel volumes for UPS, FedEx, USPS and the Regional Carriers since the beginning of Covid-19 through the holidays, carriers were challenged like never before to meet this surge of parcel volumes and maintain service standards.
Performance disparities by region and state will continue well into 2021, and clearly the USPS will be digging out of the deluge of parcels for weeks to come in early 2021! With this delayed shipping of holiday gifts, may companies can count on increased returns costs increasing transportation and fulfillment and decreasing gross margin.
During the peak holiday selling, the largest ecommerce sellers could not always count on daily carrier pickups and had no way to offload to other carriers.
For most ecommerce companies, the expenditure on transportation exceeds the cost of all other fulfillment expenses in most companies (i.e. direct and indirect labor, total facilities costs and packing costs).
Along with the unprecedented Covid-19 residential parcel surge and holiday demand, the carriers introduced new and unexpected surcharges in 2020 as many companies struggled to truly quantify the financial impact to their annual transportation budgets and are unsure on how to mitigate them. It now appears the historical practice of parcel carriers implementing "one-time" annual carrier rate increases at the beginning of a given year is a permanent marketplace shift where new "waves" of surcharges can be introduced at any point to drive new revenue streams for the carriers.
In addition, the ability to shift packages from your incumbent carrier to another parcel provider during 2020 were extremely limited due to capacity levels within the carrier delivery networks. This left companies few alternatives except for pushing volumes to the USPS which compounded their struggling delivery network performance.
4 Recommendations for Managing Freight Costs
Moving forward in 2021, it will be imperative that companies have the tools and analytics to truly measure the financial impact of the announced 2021 increases and potential new surcharges.
Assess rate and service level changes and your budget in 2021. Seasoned transportation professionals realize their budgets will likely exceed the announced 4.9% rate increases announced for 2021. Bottom line cost impacts vary by individual characteristics (your package and service levels used). Analyze your business' detail characteristics and develop detail recommendations that will mitigate budget overruns. The charts below highlight rate increases that will significantly impact your transportation expenses in 2021.
Further address "free shipping". We all know, there is no such thing as "free shipping" and with ever increasing carrier rates and surcharges, it is critical for companies to clearly understand the impacts to their transportation budgets and cost per unit shipped.
The current direct-to-consumer marketplace clearly appears to be moving from the "free shipping". Marketing, merchandising and fulfillment should address the use of "free shipping" and its affects on the transportation budget.
Raise awareness of shipping costs for products. For future product selections and merchandise category expansion, make part of the process, to identify the characteristics that are going to affect the shipping cost of the item and determine its potential effect on budget. We have seen big disconnects between merchandising and fulfillment. It may be a great potential seller, but what is it going to cost to ship? Is it in line with assumptions made in the transportation budget?
Hire consultant to assess and fine-tune your transportation strategies and budget. F. Curtis Barry & Company and Platinum Circle Partners have been partners for many years. We share many clients to reduce transportation spend and being more strategic and proactive in controlling costs. Considering the magnitude of the transportation budget, clients often hire us to validate their budgets and find ways to mitigate the continual carrier rate increases. Platinum Circle Partners has a wide array of information and financial tools to bring significant improvements in transportation (both small parcel and trucking) cost reduction, invoice audit and governance and vendor control.
UPS SurePost and FedEx SmartPost 2021 Rate Increases

The above chart reflects UPS SurePost Jan. 2021 vs Jan. 2020.
Note: SurePost < 1 lb. up 4% to 7.8%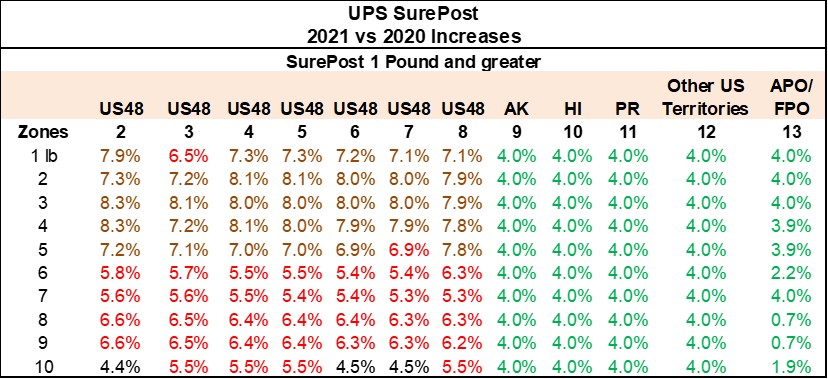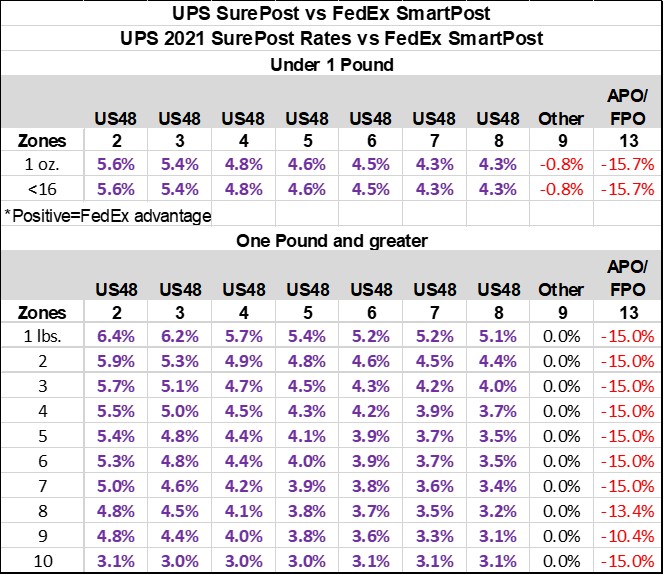 Above chart compares UPS SurePost vs. FedEx SmartPost for 2021 under 10lbs.
Note: For 48 states, SmartPost is 4.8% below SurePost for parcels 1-16 oz. FedEx averages 4.4% below UPS for 1-9 lbs. for 48 states.
Average UPS Parcel Rate Increase for 2021 vs. 2020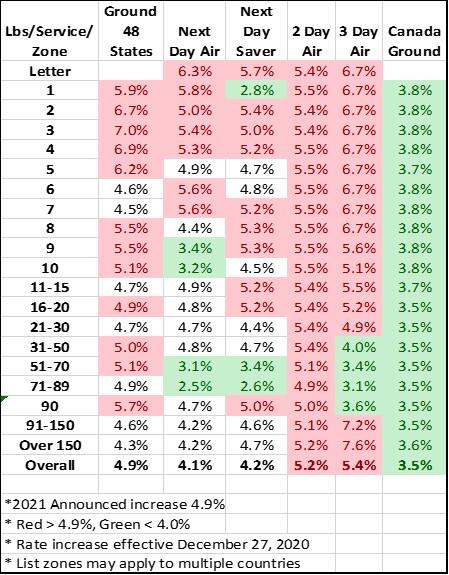 Average FedEx Parcel Rate Increase for 2021 vs. 2020
One thing we unfortunately can count on are carrier rate increases. Transportation budget overruns can dampen your company's profits. Start the new year looking for improved transportation strategies and budgeting.
This article was written in conjunction with F. Curtis Barry & Company and Platinum Circle Partners. Platinum Circle Partners provides world class Information management and financial tools for Finance and Supply Chain Executives. As an information and analytic powerhouse, Platinum Circle Partners leverages its core competencies across technology and information management, finance expertise, and distributions and logistics experience. These technical tools and services enable significant improvements in transportation (both small parcel and trucking) cost reduction, invoice audit and governance, and vendor control. Platinum Circle Partners prides itself on client satisfaction achieved through dependable execution and measurable results.