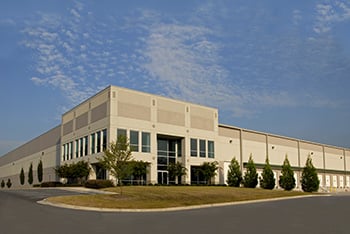 The U.S. warehousing sector has been under the spotlight, thanks to a persistent rise in rental prices. This surge isn't just a statistical blip—it's a reflection of a market undergoing profound changes. As businesses and consumers alike grapple with the implications, it's critical to understand the factors at play.
This article aims to provide a deep dive into the driving forces behind this trend, its implications, and a look into the crystal ball of future predictions with insight from the WSJ.
While various economic elements have always influenced warehouse space demand, nothing could have prepared the industry for the tsunami that was the 2020 pandemic. Overnight, consumer behaviors shifted, online shopping soared, and suddenly, warehouse space was the hottest property ticket in town.
What followed was a scramble by businesses to adapt to this new normal, leading to a skyrocketing demand for storage and distribution spaces.

Warehouse Costs by The Numbers: A Snapshot of the Recent Trends
In the recent quarter, the average asking rent for U.S. industrial space hit an all-time high of $9.59 per square foot. When pitted against the same timeframe from the previous year, that's a significant 16.1% leap.
This isn't a flash in the pan. Over the last four years, we've witnessed warehouse space costs surging by a whopping 50% since spring 2020.
Certain areas, like Tampa Bay, Florida, have become hotspots with asking rents mushrooming by 32.2% in the second quarter year-over-year.


Behind the Curtains: Unpacking the Dynamics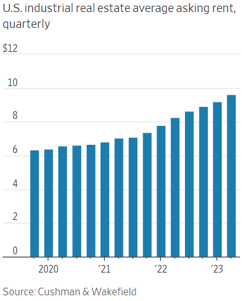 A surface glance might suggest that rising prices equate to booming demand. However, a closer look reveals a more nuanced picture. Despite soaring prices, vacancy rates for industrial real estate have been inching upwards. Hitting 4.1% in the most recent quarter, this rate has risen from the 3% seen at the close of 2022.
So, what's causing this apparent contradiction? A big part of the answer lies in the long-term nature of the industry. Warehouse operators, 3PLs and their clientele typically ink deals that last three to five years. This means decisions are based on future predictions rather than the volatility of short-term market conditions.
Interestingly, the apparent vacancy doesn't signify a cooling market. The recent 4.1% vacancy rate, although higher than the previous quarter's 3.5%, is a far cry from the 5% average witnessed in 2020. This underlines a fundamental truth: by historical standards, warehouse space is still at a premium.
What the Experts Are Saying
Mehtab Randhawa, a key figure at JLL, offers a revealing insight. While the numbers might indicate a drop in leasing from the heady highs of 2021 and 2022, what we're witnessing is merely a market correction or, as Randhawa puts it, "normalization."

However, this doesn't mean the industry is static. New influences, such as U.S. manufacturers expanding their warehouse footprint, are filling the vacuum left by e-commerce sectors that are now recalibrating their demands.
Another industry heavyweight, Cushman & Wakefield, highlights an essential factor: the spate of cutting-edge facilities mushrooming over the recent past. Outfitted for contemporary logistics solutions like automation, these premium properties are pushing the average rental bar higher. On the bright side, tenants now find themselves with a plethora of options, allowing for more competitive deals.
Forecasting the Future: What Lies Ahead?
The warehousing industry stands at an intriguing crossroad. As leasing activities show signs of slowing and interest rates climb, the specter of a logistics space shortage looms large. This could further strain the already soaring rental prices.
Giants like Prologis are already sounding the alarm bells, with construction starts showing a dip. Yet, there's a silver lining: as the industry gears up for these challenges, businesses hopefully can expect a landscape rich in opportunities and options, even if prices continue their northward journey.

The U.S. warehouse rental landscape is in flux, shaped by a mix of historical pressures, pandemic-driven shifts, and market dynamics. As stakeholders navigate this ever-evolving maze, staying informed and agile will be key. The market might be tight, but for those with a keen eye, opportunities abound.