As we have written many times, 50% of large scale implementations end up over budget and well behind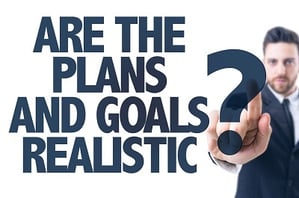 the original proposed implementation schedules. Typically, we have always identified investment in several areas: hardware, operating software, third-party software, professional services and applications licenses. In order to plan initial new system implementation budgets for large scale order management system and enterprise resource planning systems (ERP), it's prudent to go well beyond these categories of expense and engage in broader based planning and due diligence.
Here are 5 ways to improve your planning and bring the implementation in closer to plan and schedule:
Proposed schedule. Simply stated, many VAR/vendor proposed schedules are too aggressive and are not realistic. It's often suggested that the order management system or ERP can be installed in 6 months. Our experience is that over half the time the company can't be ready in 6 months. That's highly unlikely and in most cases proves unrealistic once detail task plans and estimated days are developed. Ask the vendor for 5 references of recent installs you can talk to that have met this timeframe. Was their company of the scale and complexity of yours? Do the detail planning and add a big dose of reality.

Services are the major costs. Early estimates of professional services that VAR/vendors give you end up being 1.5 to 2.0 times higher than planned. One vendor told us that giving a higher professional services estimate might disqualify them early in the selection process. Professional services create major budget over-runs. Here are a few things to ponder:

A. Modifications are very difficult to estimate until you get involved in actually implementing the order management system. Part of this is understanding functionality that does exist in the application and how the modifications affect these. It is always better to implement the "vanilla" application initially, if possible. Frankly, many vendors just aren't too interested in researching how much the modifications are going to cost until you make a commitment.

B. Schedule slips force VAR/vendor project team costs to continue until implementation. When the vendor didn't deliver the implementation in a 6 month period, one vendor in order to keep the team in place, required the client to pay the on-going project team charges – this was $87,000 per month. Ask the VAR what their policy is?

Too narrow scope for budgeting. In most companies, departments are lean and 100% of their time is used in running your business. A major order management system implementation will require their best efforts for 8 to 12 months; at least. Spend the time planning out who will Project Manage the implementation 3 days per week? Who will write new procedures, convert files, etc.? What overtime will be required? Estimate these costs before you commit.

Under-estimating the server and network configuration requirements. VARs and vendors no longer sell hardware and they aren't any better with planning complex network designs. They'll give you specifications but many times the actual installed hardware and network costs are 2X what are originally planned because they don't reflect your standards for security, backup, system response time for multi-locations, archival of data, separate servers for data repositories and reporting, etc.

Lack of buy-in by department managers. It's important to start the process of buy-in with everyone early during the order management system selection process. There is often a very real inertia that eats up time and dollars because everyone isn't fully pulling in the same direction. Is this formally part of everyone's goals and objectives?