As the summer draws to a close, families and students are gearing up for the annual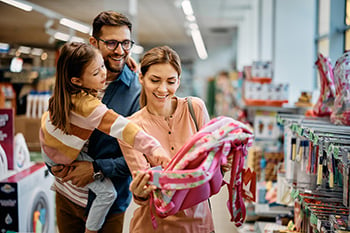 back-to-school shopping extravaganza. According to the latest survey by the National Retail Federation and Prosper Insights & Analytics, the upcoming academic year is set to witness unprecedented spending.
Back-to-school expenditure is expected to soar to a staggering $41.5 billion, surpassing last year's $36.9 billion and the previous high of $37.1 billion in 2021. Additionally, back-to-college spending is projected to reach an impressive $94 billion, marking a substantial increase of $20 billion compared to last year's record.
This article delves into the key statistics and trends revealed by the survey, shedding light on the factors driving this surge in spending and how consumers are navigating the back-to-school shopping landscape.
Families Gear Up for Back-to-School Spending
Parents of children in elementary through high school are preparing to open their wallets for back-to-school essentials. On average, families plan to spend $890.07 per child, a notable increase of approximately $25 from last year's record of $864.35.
This trend signals a new high in back-to-school spending. A significant driving force behind this surge is the surging demand for electronics, with a staggering 69% of back-to-school shoppers planning to purchase electronics or computer-related accessories this year.
This figure is up from 65% last year and represents the highest percentage in the survey's history. The total spending on electronics is projected to reach a record-breaking $15.2 billion, with laptops, tablets, and calculators among the top items on parents' shopping lists.
The increased focus on electronics in the education landscape is indicative of the growing integration of technology into classrooms. With remote learning becoming more prevalent during the pandemic, many families have realized the importance of having reliable devices to support their children's education.
Consequently, laptops and tablets have transitioned from being optional gadgets to essential tools for academic success.
Furthermore, the survey points to the changing preferences of back-to-school shoppers. Traditionally, families would focus on clothing and stationery items, but now, electronic devices have become just as crucial for the modern student.
With technology playing a more prominent role in education, parents are willing to invest more in electronic gadgets that enhance their children's learning experience. Retailers must have a finely tuned distribution strategy to capitalize on these opportunities.
College Students Invest in Education
Heading off to college comes with a hefty price tag, and this year is no exception. Back-to-college students and their families are projected to spend an average of $1,366.95 per person, marking a significant increase from last year's $1,199.43.
This new record surpasses the previous high of $1,200.32 in 2021, highlighting the rising costs of college education. The survey reveals that spending on big-ticket items like electronics and furnishings, as well as essential items such as food, accounts for more than half of the overall increase in back-to-college spending this year.
The mounting expenses indicate a substantial shift in the way students and their families approach college preparations.
The surge in back-to-college spending can be attributed to several factors. Firstly, the cost of higher education has been on an upward trajectory for years, making college an increasingly significant financial commitment for families.
Tuition fees, accommodation, textbooks, and other essentials can quickly add up, prompting students and their families to allocate more funds to adequately prepare for the academic year.
Secondly, the pandemic has also played a role in reshaping back-to-college spending habits. With many students experiencing a year of remote learning, the return to in-person classes may require additional expenses for dormitory furnishings, transportation, and other campus-related necessities.
Students and families are prioritizing their comfort and convenience, leading to an increase in spending on essential items and electronics to facilitate a smooth transition back to campus life.
Retailers have leveraged 3PLs for fulfillment, to support this increased demand, as well as highly optimizing order fulfillment and distribution.
Consumer Shopping Habits and Trends
Online shopping continues to dominate as the top destination for back-to-class shoppers, closely followed by department stores and discount stores. Notably, 55% of consumers have already begun their back-to-school shopping.
This is a trend that aligns with previous years' data of consumers starting early for major spending events. Despite the early start, 85% of shoppers still have at least half of their shopping left to do as of early July.
The survey also sheds light on the reasons behind the increased spending. Forty-three percent of respondents spending more than last year attribute it to the need for additional new items, while another third (32%) attribute it to purchasing more big-ticket items such as computers, phones, calculators, or dorm furnishings.
However, even with higher budgets, consumers are keen on finding the best value and deals. They are resorting to comparing prices, considering off-brand or store-brand items, and showing a preference for discount stores.
Conclusion and Future Trends
The annual back-to-school and back-to-college spending trends reflect the evolving landscape of education and consumer habits. Families are investing more in their children's education, particularly in electronics and essential items.
Likewise, college students and their families are confronting rising costs as they prepare for higher education. Online shopping continues to be the go-to choice for many consumers, allowing them to hunt for the best deals and stretch their dollars further.
As the new academic year approaches, educational institutions and retailers can expect continued interest in electronic devices and essential items. The integration of technology in the classroom is likely to increase, leading to a sustained demand for laptops, tablets, and other digital tools.
Additionally, as the world transitions to a post-pandemic era, back-to-college spending may continue to shift, with an increased focus on creating comfortable and conducive living spaces for students.
The survey serves as a valuable resource for understanding consumer behaviors and trends, guiding educational institutions, retailers, and families alike in making informed decisions.
As back-to-school and back-to-college spending continues to evolve, staying attuned to consumer preferences and needs will be essential for all stakeholders involved.