Has a personal shopping experience ever made you reflect on how important fulfillment is to customer service? Fulfillment is often the last touch point your business has with a product before landing in the hands of your customer. The amount of attention to detail your fulfillment staff put into selecting and packaging the product has a direct impact on whether or not the customer will be happy.
Once, we spent several hours surfing the web for a motorized airplane kit that a 15-year-old nephew could build and fly. We eliminated many possibilities based on cost, engine systems, navigability, durability, and no stock for immediate shipment. After some searching, we successfully found one under $100.00 from Amazon. We placed the order on December 3rd with fulfillment from the seller's ecommerce fulfillment center (Amazon Seller Fulfilled).
The good news about the fulfillment experience - The gift arrived December 6 via UPS Parcel Select - on-time as Amazon's shipping email had promised. The outer carton had no damage. There was a battery warning label (UN3481 sticker) on it, with the emergency number and a Global Response Access Code.
The bad news - The gift "crashed" upon delivery! The product seller's fulfillment center destroyed our shopping experience and sent us running to find a replacement gift.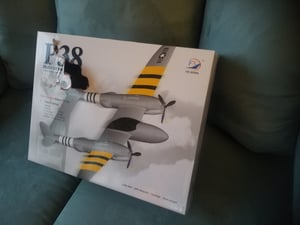 How so? The outer shipping carton had no damage – not even a ding in the carton. But, when we opened it, there was a 2.5-inch by 3.0-inch hole punched or scraped in the product's inner carton (see photo). The dunnage had protected the plane from damage. After reading the parts list, we saw that the contents were missing the batteries and some parts.
Since there wasn't any outer-shipping carton damage at all, the error had obviously happened in the fulfillment center. It's possible a previous customer's return had been reshipped (missing the batteries and some parts). It doesn't matter what happened - in our experience, Amazon doesn't put up with many customer problems before dropping the seller.
This is because Amazon's offer to ship a replacement product for free did not rectify the situation. Someone in fulfillment destroyed the shopping experience and our trust that they would ship a working product to us in time for Christmas. This could be the deciding factor for many customers as to whether they should ever purchase from your company again.


Lessons For Your Ecommerce Fulfillment
Here are 6 things to consider as we observe this fulfillment center experience:
Tell fulfillment employees the obvious: Develop written, easy to understand standards for all critical functions in your ecommerce fulfillment center. One way our experience could be prevented is training a picker to take damaged stock to a holding area for inventory disposition.

How do you as a company (marketing, merchandising and fulfillment) want the package to arrive and be presented to the customer? Write your standards accordingly. If it's dusty, clean it off. If it has a hole in it, don't ship it.

Teach your packing and shipping department that how you do your job matters. They are critical to a great customer experience and continued purchases builds higher lifetime value.

READ MORE: 7 Ways to Make Your Ecommerce Packing, Shipping More Efficient


Quality of the fulfillment workforce: The US unemployment rate is at 3.5%, the lowest rate in 50 years. In every industry, there are far more entry level and hourly jobs than people to fill them. Ecommerce fulfillment businesses are built on hourly workers, many manual operations and processes. The quality of the workforce; the degree to which they can work independently; and their work ethic may vary widely. Standards and procedures are essential.


Cost of errors. Based on our 35 years of consulting, we've found the average cost to your business of a fulfillment error is between $35 and $50. But the most severe error NOT INCLUDED IN THIS NUMBER is an error that causes you to lose a customer and their lifetime value.

Additionally, returns cost more than orders to process. Losing the sale through a return, you lose the prospecting and website expenses in acquiring the customer; the cost of processing the initial order; the margin earned on selling the product; the internal fulfillment return processing costs; and maybe the return shipping costs as well.

READ MORE: How to Reduce Fulfillment Errors in Your Warehouse


Build a solid fulfillment foundation: The customer has a myriad of choices to shop. Operate on the premise, "You only get one chance". Procedural development, standards, and training are the cornerstones to the best practice, customer-centered ecommerce fulfillment. Without standards and procedures, you'll be chasing your tail by constantly repeating to employees what you expect and correcting errors if you catch them and still have sloppy, expensive fulfillment.


Hiring the "right person": With low unemployment levels, you may be faced with hiring people that do not know what fulfillment and warehouse work really is. We have seen new hires come to work for a couple days and never come back. Or we hear, "Boy this warehouse is big. There is a lot of walking and lifting in this job!". As you finish the final weeks of the holiday season, take time to assess what you can improve upon in hiring next year.

READ MORE: 12 Ways to Improve Peak Season Hiring for Ecommerce Fulfillment


Establish a buddy system for new hires: You don't know how good the new worker is until they get a week or two under their belt. Coming into a new center as it is ramping up is also tough on the new hire when you consider the training, systems, procedures and processes used to get their work done. We often see greater success if the new hire is assigned a buddy – an experienced fulfillment employee that can help them adapt and get on a faster track.
Tongue in cheek joke – ecommerce fulfillment is pretty easy, just do the basics right! Here's hoping your business has a profitable Holiday Season. Happy New Year!