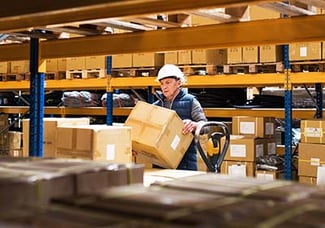 For many companies, the high cost of warehouse leases and labor are pushing them to consider outsourcing warehouse operations. While there are a significant number of 3PL fulfillment and logistics options, the decision isn't always straightforward.
3PLs can support a wide range of warehouse operations including value added services. Most 3PLs also operate several distribution centers, allowing your company to expand its supply chain across the US.
Even those these 3PL outsourcing options save time and money, they aren't always the best options for all companies. Outsourced logistics can play a role by handling all of your warehouse operations – or just certain tasks. We break down when outsourcing warehouse operations does make sense.
Business Challenges for Considering Outsourcing Warehouse Operations
The following are the most common challenges that push companies to consider working with a 3PL.
You're a start-up company with limited financial resources to support internal fulfillment – but still want high customer satisfaction.
Company where fulfillment is not a core competency. You are strong at product development or manufacturing, but understand that product fulfillment is a weakness.
Your company is faced with needing to significantly invest in your facility or infrastructure. These capital investments typically range outgrowing the current facility to new warehouse management systems long term.
You have seasonal spikes that exceed your ability to effectively manage or staff them.
Internal fulfillment costs continue to increase, impacting the bottom line.
In all these situations, outsourcing warehouse operations might be the right answer.
Benefits of Outsourcing Warehouse Operations
Outsourcing warehouse operations and product fulfillment can provide cost savings.
Using 3PL services allow you to focus on the core of the business, typically marketing and merchandising.
You can improve how you are servicing the customer by leveraging logistics services. This includes multi warehouse options, strong warehouse management systems and well managed labor.
Logistics companies allow companies to mitigate risk within their warehousing operations and distribution networks.
Another benefit of 3PL companies is the ability to provide your business more consistent customer service.
Allows you to use capital for other business opportunities.
How to Evaluate Options for Outsourcing Warehouse Operations
When considering the outsourcing of your logistics operations, it is critical to ensure you follow a thorough process. The following steps will help your company understand the process of selecting a 3PL.
Develop a detailed RFP. A detailed RFP ensures that all 3PL outsourcing vendors are working from the same assumptions. Be sure to include the following:
Overview of your company and business description.
Business transactions, volumes and metrics for inbound and outbound shipments.
Item file with dimensions and weight.
Your current and future warehouse processes.
Value added services that you need from a 3PL.
System requirements including integrations and EDI needs.
Real time reporting and client portal needs.

Evaluation of 3PL options. Research which outsourcing vendors are viable options for your company. Once you have researched potential 3PL partners, utilize your RFP to receive bids. Key things to consider when researching 3PLs should include:
You will want to ensure that the vendors you are considering have experience with your product line.
Do they offer the same value added services that you require?
If you ship to big box retail, do they handle this today for other clients?
Do they have the systems and reporting needs required by your company?
Are they geographically located where you need to be?
Are they interested in your volume of inventory, orders and SKUs?
Can they meet your timelines and schedule?
Develop the total annual 3PL cost. You will quickly find that outsourcing warehouse operations leads to a wide range of costs. 3PL services are typically bid on a per transaction basis. For larger companies looking to outsource operations, this could be a on a cost plus basis.
Make sure all 3PL outsourcing costs are included, break them down in the following manner.
Separate 3PL startup costs from ongoing charges.
Make sure you've calculated your current warehousing costs for comparison purposes.
Make sure that all warehousing and fulfillment processes are priced in. For instance, most times cycle counting, and physical inventory processes are not included.
Separate freight and transportation costs from the actual warehousing or fulfillment costs.
Ensure that integration and EDI costs are spelled out. Also ensure that any monthly system costs are included.
Be sure to ask about account management fees. You will want to make sure these are sufficient for your company.
3PL outsourcing due diligence. This is a step where most companies tend to fail. This is typically by not doing enough due diligence to ensure before signing a contract. Prior to making your decision, be sure to do the following:
Site visits to 3PL facility. It is important to go and see the outsourcing warehouse where your products will be. Meet the team and ensure the facility is clean and well organized. Do you see this as a facility that can support the needs of your business and customers?
Perform 3PL reference checks. Make reference calls to several of their clients, especially those in your niche. Get a sense of how well they operate. Understand if they are exceeding their needs and expectations.
What does your gut say. Do you trust them to do the right thing when problems arise? Do you believe they will service the customer the way you would?
Third party outsourcing isn't for every company, but for some it can be a major advantage. It is imperative that you research all aspects of outsourcing warehousing services before deciding. Leverage the experience of
3PL consultants
to guide you through the process. A consultant can bring detailed insight to this analysis, shorten the vendor list and help with due diligence.