As inventories pile up, warehousing and inventory management continue to be a significant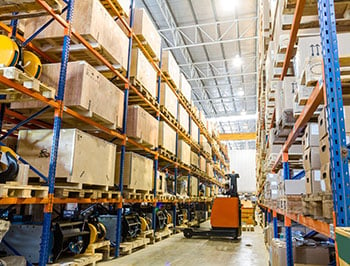 challenge for businesses. This environment is continuing to drive up costs and hurting profitability. We explore the impact of excess inventory on companies and discuss strategies to address this issue.
For context, according to a recent CNBC Supply Chain Survey, many companies are struggling to manage their warehouse inventories, which are putting pressure on their bottom line. The survey, conducted between March 3-21, involved 90 logistics managers. Respondents provided insights on current inventory levels, inflationary pressures, and strategies for managing excess inventory.
Excess Inventory and How Its Being Handled
Logistics experts revealed that 20% of excess inventory in warehouses is not seasonable, posing additional challenges for companies. More than half of the survey participants said they would keep these items in warehouses, while 27% opted to sell them on the secondary market. This is mainly due to the negative impact of inventory storage costs on a company's bottom line.
For businesses with perishable goods, secondary markets offer an alternative to destroying products. In some cases, companies donate consumables to take advantage of tax deductions.
Download the full set of charts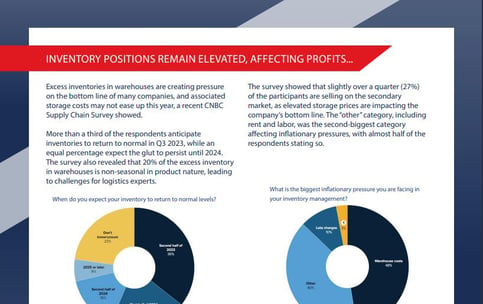 Inflationary Pressures and Impact on Earnings
Almost half of the respondents identified warehouse costs as the most significant inflationary pressure they face, followed by the "other" category, which includes rent and labor. Investors are concerned about earnings and margin trends, expecting Wall Street to revise estimates lower due to supply chain pressures.
Mark Baxa, CEO of CSCMP, noted that inventory carrying costs continue to rise, driven by inflation and late shipments. These factors contribute to growing sales risk, margin pressure, and deteriorated or obsolete inventory.
Additional Costs Passed on to Consumers
Traditionally, warehousing and labor costs are passed on to consumers, which can increase or sustain product prices. The survey found that 44% of respondents are passing at least half of their increased costs, if not more, to consumers. This highlights the ongoing supply chain challenges and associated inflationary pressures affecting the market.
Manufacturing Orders and Economic Outlook
Recent data shows a decline in manufacturing orders, with the ISM Manufacturing Index at contraction levels in March. The US services sector has also slipped closer to contraction, according to the ISM Services Index.
When examining manufacturing orders for the next three months, 40% of logistics managers surveyed said they are not cutting orders, while 18% are cutting orders by 30%. These numbers are influenced by inventory levels and consumer consumption.
As China reopens from strict COVID protocols, the country's GDP may be impacted by manufacturing orders since China relies heavily on manufacturing and trade for economic growth. FreightWaves SONAR intelligence shows a slight uptick in ocean freight orders, but the longer trend line indicates a decrease in ocean bookings.
Effects on Trucking Logistics
The inventory glut impacts trucking logistics in several ways. Trucks are not only moving fewer containers from ports but also transporting less from warehouses to retail stores. Data from Motive, which tracks trucking visits to North American distribution facilities for the top five retailers by volume, reveals a decline in truck visits from warehouses.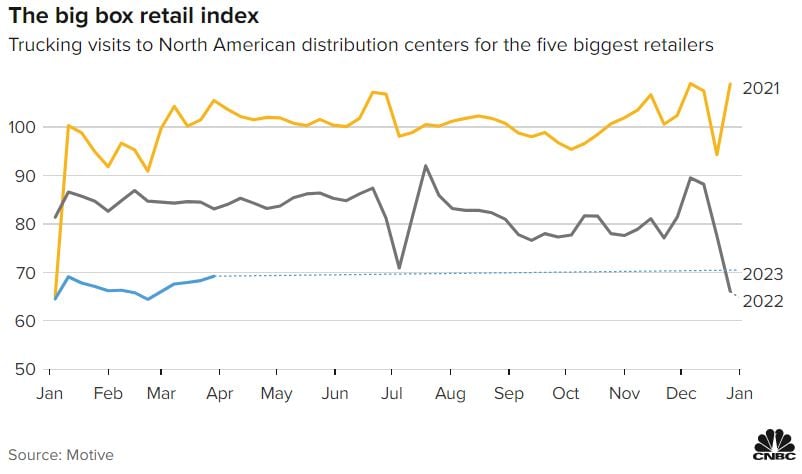 According to Shoaib Makani, founder and CEO of Motive, the drop in visits to retail warehouses indicates weakness in consumer demand. Surprisingly, however, it may also signal a recovery in the supply chain. With lead times to replenish inventory reduced from 2021 and 2022 highs, retailers are burning off existing inventories, confident that they can restock quickly.
Conclusion
In conclusion, bloated warehouse inventories remain a critical challenge for businesses across various industries. Companies are adopting different strategies to manage excess inventory, such as selling on secondary markets or donating perishable goods.
Inflationary pressures, including rising warehouse and labor costs, are being passed on to consumers, exacerbating the issue. Despite some signs of recovery, the inventory glut continues to impact trucking logistics and the broader supply chain.
As Mark Baxa, CEO of CSCMP, stated, "This survey confirms that we remain in an era of serious supply chain cost-to-serve challenges. Warehousing costs are contributing to these challenges that shippers are facing today and on the road ahead."