In our experience as consultants selecting and implementing systems we see 12 mistakes multichannel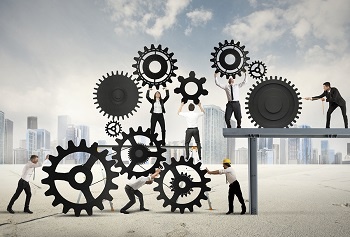 businesses make in selecting an order management system. These apply whether its order management, enterprise resource planning, warehouse management or website development platforms that you are selecting. How do these mistakes manifest themselves and lead to failure of a project?
50% of the projects have budget over runs on the initial implementation
50% have higher total cost of ownership than planned
40% fail to deliver the expected business value and Return On Investment
Much of this heartache can be reduced or avoided if you adopt the principles outlined below:
1. Having the Wrong Expectations
Many projects get off to the wrong start. In my four decades of order management system experience, here are five things management always wants to know upfront before the project selection proceeds:
To understand type/tier of software that best suits your needs
Perform preliminary gap analysis of your business compared to commercial systems available
Develop preliminary total cost of ownership for entire project

Understand the schedule to complete process
To know what resources - both internal and external – are required to implement and support project
How many times have you told your boss, "ABC will cost this amount" or "We can complete the project on this timeline" - only to find out after you do the in depth research or do the project, reality is dramatically different. The point here is that management doesn't want to go through months of detail study to find out that they can't see their way to a huge investment. They want the answers to these questions first and then give you approval to do the detail work. This is a catch 22. Unless you have current prior experience with the systems being investigated, how will you answer these questions? It may be an option to engage a consultant to gain insight. You have to answer these questions in a manner that doesn't create unreasonable expectations for the project.

2. Counting on IT to do everything
Success in system selection is driven by assembling a strong project team from all departments that will use the system. System selection is not just IT's project. Large scale systems like order management change everything about the way your company will do business. The users want good systems but one group or another either pushes responsibility off on the other or they don't have input so they don't buy into the process. Also, be sure to have executive sponsorship that supports the project from start to finish. Be sure you have a project manager capable of coordinating and supporting the project. Don't rely on the vendor's project manager to manage the entire project. For large system projects this is a full time job, if you don't have the resources seek assistance from experienced external resources to assist you.

3. Failure to develop detail business requirements
This is one of the main areas that companies try to short cut the effort and end up hurting themselves. Develop a requirements document; gain user sign-offs; turn that into a Request For Proposal (RFP) document or design document. An order management system for example may have 2,000 plus unique requirements. Interview each functional area that are stakeholders in the new system. Don't recreate existing systems in the requirements. Address the functionality, not necessarily how it should be accomplished. Document systems interfaces to other systems that are necessary, including the data points and frequency data is passed. A select group should review requirements to make sure they fall in line with company's strategic direction. Without requirements how will you compare one vendor to another objectively?

In addition to requirements, tell vendors enough for them to understand your business: Include background about company; company goals and objectives for project; timeframes to complete each step of project including deadlines for vendor responses to the RFP; transactional volumes and user counts; your company's growth projections by year for the next 3 years; directions on how to respond to RFP, etc.

4. Limited search, limited vendors
So many times companies do a few quick demos and they think they have the best vendor choices. Keep your options open – don't settle on one vendor too prematurely. Initially, you want to consider all the vendors that sell or license applications you are looking for and then in an analytical manner, develop a short list of 3 or 4 vendors in order to review range of functionality, services and negotiate price. No one vendor is perfect fit for all companies. Look for where you can get at least 80% match of the critical functions.

5. No competitive bid process
Conduct multi-vendor bidding process. Not only will you get the best price but creative vendor analysis and proposals may give systems insight into your business that you would not have gained. We find vendors are under used resources – their questions may make you think differently about your operation. Keep two finalists until the very end. Too often companies develop a favorite vendor; your staff or a vendor probing may actually short circuit the competitive bid process.

6. Picking technology over functionality
Balance technical decisions with all other factors. Platform and systems technology is important. But how much functionality are you giving up by selecting the most leading edge technology? Deciding on technology foremost without sufficient functionality can be an expensive mistake. If the functionality is a great fit for business, but the technology is antiquated, how will you be able to integrate other business applications? You need to be able to strike the right balance.

7. Too many modifications versus adapting to new application
Too often companies try to make the new order management system look like their current system. We think that you should minimize modifications throughout the process at least initially. Modifications add risk, cost and extend time frames or make the system undeliverable. Every year we see major companies abort implementations because they under estimated the effects of the contractual modifications. In vendor software demos and discussions, evaluate vendor's alternative processes rather than deciding to modify. Challenge modifications deemed "necessary" after reviewing the alternative processes. Don't consider modifications for exception processes that happen infrequently. Consider changing your business processes. Consider utilizing the system "as is" for 6 months before making certain modifications.

8. Superficial demos
Many times each year, we see companies' select complex systems based on a vendor's couple hour demo. These are complex systems with hundreds of functions. You need to control the vendor's demo and schedule a day and a half (1.5) to two (2) days to see everything. Considering the investment doesn't it deserve that time? You need to script and control the vendor demo. Scripted demos need to include key functionality related to your business. From the RFP responses what do you need demoed? Prepare in depth examples with your data and send it to the vendor in advance. Be sure major stake holders are involved throughout the demos and that each functional area participates. Develop a process to take notes and follow up points.


9. Insufficient vendor due diligence
Due diligence of the vendor finalists is critical to making the best decision. Visit client sites with similar merchandise and operations using the version of the software you're purchasing. You wouldn't believe how many companies never see the product "live" in a similar company before signing. Perform scripted client reference checks asking the same questions of as many vendor clients as you can. Asking the same questions will let multiple people in your company participate and compare answers. Ask for full client list, not just the stolid top references. Talk with new clients that have just "gone live" and those that have gone though a major version upgrade.

10. Signing the contract pre-maturely
Avoid the salesperson's push to close; "I'll give you 20% off if you sign by month's end" often is not a wise choice unless you have already secretly selected the vendor. Almost there – don't rush the process. Don't let a vendor side track your process by using sales tactics designed to end your competitive bid process. Proceeding to review a contract should be based on the "buy in" from the project team and sponsors. Avoid signing a letter of intent or license agreement without having all major modifications, services and implementation plan detailed out. Deposits are non-refundable.

11. Not having fair and balanced contracts
You only need a good contract when you need a good contract (e.g. disputes, arbitration or court hearing). Most contracts are obviously biased toward the vendor. There are two major aspects to contracts that deserve your attention:
The Business case including detailed modifications, conversion, services, hardware (if applicable) and software, pay for progress, implementation plans. Many of these points are never addressed in contracts unless you demand the vendor amend the boiler plate agreement to do so.
The Legal terms: Have an intellectual property attorney review language, terms, and add the agreed to language for business case. Not enough work is done here. Buyers often use attorneys that don't have this expertise. The result is often that a number of key aspects coupled with key elements from the business case that are not in the contract are not very enforceable. We work as an expert witness and it's appalling what gets left out of the contracting process. By this point management and the vendor just want to bring it to a conclusion and that's when key mistakes occur.
Incorporate all key materials and promises made into the contract. Anything agreed to verbally is not enforceable, if it is not in the agreements. Disputes are left to the interpretation of a judge, jury or arbitrator to decide the importance, if you cannot reconcile it with the vendor.

12. Under estimating the implementation timeframes
Every vendor proposal has a simplified Gantt chart of their typical implementation, whatever that is. Demand that detailed project planning is completed and part of the contract. It's essential for success and meeting the expectations in #1 above. Do not force implementation if not realistic to compress dates. Build in contingency time for when certain aspects of the plan run longer than expected. Most companies do not plan enough time for file conversions, integration planning, modifications, programming and testing. Make weekly project meetings part of your discipline. Within 30 days of the "go live" move to daily calls and meetings.

Summary
We think it's easy to see how these 12 mistakes happen and why order management system selection projects have budget over-runs, the total cost of ownership is much higher than expected and companies fail to get the results and return on investment. Being disciplined and following these 12 critical points will help you to avoid or minimize these mistakes in your projects.