For many companies, using 3PL solutions for warehouse and distribution functions can be the best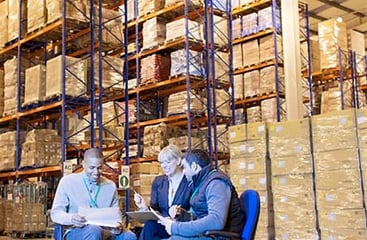 way to support growth. There are many options for utilizing third party logistics. One misconception is that they are just warehousing and transportation partners.
However, many 3PLs offer a range of services from value added services to order fulfillment and returns. These value added services are often needed when supporting retail and marketplace partners.
Whether consumer, or wholesale distribution, choosing a 3PL for parts of your supply chain can provide cost savings. These cost savings come from reduced labor and management, elimination of capex and reduced shipping costs by using the 3PLs rates. In addition, 3PL solutions can provide improved customer service and customer satisfaction.
Working with a 3PL can have many benefits, which typically include the following aspects.
3PL Solutions Eliminate the Need for Expanded Warehouse Operations
If you have your own fulfillment center, you understand the costs that come from leases, racking and material handling equipment. As your business expands, you can outgrow your fulfillment center and require a move or expansion. A new lease can be costly due to moving expenses, along with material handling and automation for a new warehouse design.
These can become costly expenses, with a long return on investment. The right 3PL solution will offer a range of logistics services and distribution points. This can keep you from having to consider a long-term lease on a new warehouse. It also allows you to avoid investments in material handling equipment or automation.
3PL Solutions to Support Peak Volumes
Retailers have seen the traditional holiday season begin earlier and earlier each year. It can be difficult for some operations to staff up in time to support peak volumes. With very low unemployment, some companies do not have a lot of options when it comes to available labor.
The right 3PL company can help to eliminate this burden. This can be achieved by handling your picking and packing needs or just a portion of the shipping volume. Other companies outsource functions such as kitting, repackaging, or light assembly to a 3PL DC. There are many functions that a 3PL can play within your supply chain.
3PL Solutions Eliminate the Need to Invest in WMS Software
Like outgrowing your existing distribution center, companies can very quickly outgrow their warehouse management software. When companies don't address their software needs, operations become less efficient and costs increase.
Third party logistic companies invest heavily in software and technology to remain efficient and to maximize labor in the facility. In using a partner, your company can leverage these investments to provide excellent customer service, order accuracy and order turnaround times. A 3PLs systems push data to a customer portal that provides real time operational reports for day-to-day activities.
3PL Solutions Can Improve Inventory Accuracy
Managing warehouse inventory relies heavily on the right management team, good warehouse management systems, and disciplined processes in the warehouse. It is not uncommon for companies to struggle with maintaining tight inventory control at the bin and warehouse level.
3PL's often operate under tight service level agreements (SLA) as it relates to inventory management. Most companies only think about cycle counting inventory but managing warehouse inventory with a high degree of accuracy is more complicated. To meet these 3PL SLA's, they must implement a disciplined methodology that begins with receiving and quality assurance. Proper inventory processes then must extend through product putaway, replenishments, picking and cycle counting.
Utilizing the right 3PL warehouse will allow you to retain tighter control over the inventory and reduce shipping errors to customers.
3PL Solutions can Help Reduce Time in Transit and Freight Costs
Many companies have a single distribution center, which makes servicing the entire country within a reasonable time in transit window difficult. If you are on the east coast, it is difficult to have a two-day, time in transit to Texas. It becomes impossible to service the west coast in a two-day ground model. Utilizing 3PL services on the west coast can provide a high population percentage two-day time in transit option for companies.
3PLs can also offer freight management and logistics solutions, including passing along negotiated freight rates to help lower costs. In addition, some companies can leverage the west coast regional carriers which provide next day delivery options. These options improve overall customer service while reducing costs.
Determining the Right 3PL Solution
With all the benefits of 3PL services, it can be overwhelming when deciding on your next steps. Follow these steps for determining which is the right partner, offering cost effective solutions.
Determining Your Needs. It is important to be realistic about how an outsourced provider can help support your fulfillment needs. Outsourcing isn't for every business; some processes and needs are best handled internally. Develop a detailed set of business requirements to evaluate each vendor against your needs.
Compare Multiple Vendors. It is important to look at multiple logistics operations to ensure that you are selecting the best partner for your business. This will also allow you to compare various 3PL pricing models. Be sure to perform reference checks and site visits to the distribution center where your business would reside.
Contract Negotiation. Negotiating 3PL contracts can be daunting given the complexity of the work to be performed. Utilize a 3PL consultant to help you review the pricing to ensure it meets industry expectations. In addition, a consultant can assist you with understanding where the contract language and 3PL SLAs should be negotiated.
Transition Planning. A strength in working with a 3PL consultant is being able to develop a transition plan. This transition plan will assist with relocating operations to your new 3PL partner. A vendor's project plan will not account for all the tasks that must occur within your operations.
3PL Systems and Technology. As part of your evaluation, you will want to ensure that the vendors systems will support the needs of your company. The systems will provide real time visibility into their day to day operations.
This should include the integrations to your other systems as well as EDI requirements. Be careful to not ignore the testing that needs to occur with integrations. 3PLs offer IT services to help companies with the integrations, though the testing still falls back to the client.
Consider using a 3PL consultant to assist with evaluating your options, 3PL feasibility studies, and providing guidance throughout the entire process. Doing so will help to mitigate risks along the way. Additionally, this ensures that you successfully select and implement the right 3PL partner for your company.