Often times we meet with multichannel companies that don't have reporting that accurately reflects the inventory turnover ratio, or they debate how significant this KPI is, and the need to analyze turns. By taking a financial view of inventory turns, companies can manage the inventory asset even better, which in turn leads to stronger profitability. Larger retail and multichannel businesses manage turns tightly in order to remain competitive and drive profit margins. Companies must bear in mind that on the balance sheet, inventory is typically one of the largest assets.
By managing turns, multichannel businesses are able to benefit the overall business in many ways. These include the ability to:
Reduce the total amount of inventory maintained on hand. This reduction in inventory means less capital invested in inventory, which can be invested in other aspects of the business.

Reduce the overall operating expenses, and carrying costs associated with the storage and maintenance of the inventory throughout the supply chain. These costs can range from 12% to as high as 25% of the net sales in some organizations.

With the reduction of inventory, companies are able to run a more lean supply chain, and reduce the size and expense within their distribution centers.
For companies that are struggling to understand the value of their inventory turnover ratio, or those that are just beginning to think about implementing this KPI, in its simplest form it allows you to understand the length of time it is taking you to recover the dollars invested in inventory. For a business that is only turning the inventory two times per year, it is taking you six months to recognize that revenue invested in inventory. Turns of four times per year it is 90 days to recognize the dollars. For any business that is concerned about cash flow, this is a critical KPI to keep in mind, and to regularly review with management.
The chart below is based off of some of our multichannel clients; it allows you to understand how these businesses are managing the inventory asset. Additionally, we have shared the number of SKU's, the number of merchandise vendors and an idea of net sales.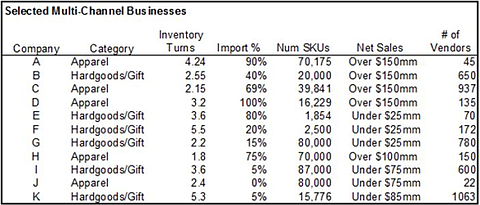 In contrast to the above businesses, the growth of many large multichannel businesses and retailers hinge on managing the inventory turns. The chart below reflects the inventory turnover ratio for publicly traded companies based on their 10K filings. As you can see, many of these businesses are turning the inventory every 60 days to as much as every 30 days or so.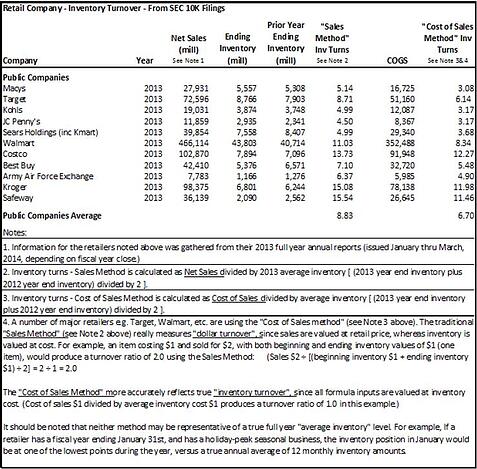 For your business to improve or maintain an efficient inventory turnover ratio, you must look at conducting an inventory management techniques assessment your internal processes including planning, purchasing, managing inventory and the timely liquidation of overstocks. Companies must look at how each of these can be improved, and become more efficient. Additionally, you must implement and utilize reporting and KPI's to understand the business better, which include not just turns, but also returns and cancellations, GMROI, sales to stock ratios, backorders and fill rates.
By measuring the business overall and comparing these KPI's to other efficient and profitable businesses, you can establish a plan for improving the overall health of your business. Inventory turnover ratio is key to the entire process, and to the health of your business. Implement these KPI's and use them to monitor your business and identify areas of improvement.
F. Curtis Barry & Company has been working with clients for 30 years on inventory management best practices and would like the opportunity to help you as well. If you are interested in conducting an inventory assessment or would like to discuss some of your inventory KPIs, contact Jeff Barry at 804-457-4028 or jbarry@fcbco.com.