Without a doubt, Amazon is king of multi-distribution center processing and shipping. In May 2019 industry sources estimated that Amazon shipped to 72% of the US population in one day from its 75 centers with 125,000 employees. In 2019, Amazon shipped 3.5 billion packages, compared to FedEx at 3.4 billion. Morgan Stanley expects Amazon to surpass UPS in 2022.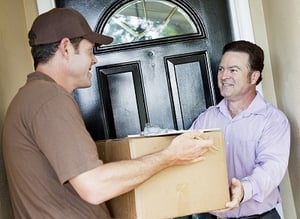 Is Amazon a threat to your business in terms of shipping cost and speed to deliver orders? In our consulting experience over the past 37 years, we have seen companies in the $25 to $50 million sales range implement multi-DC operations profitably. Amazon sales and fulfillment center growth is not going to subside anytime soon.
However, multi-DC strategies are not the right strategy for every company because of the added expenses, inventory required and managing a second remote center.
Small to moderate-sized businesses can benefit
Over 20 years ago, we assisted a multichannel company with sales of $30 million with opening a second DC to service their customers on the opposite coast instead of shipping across the country. For this B2B company, this strategy has led to more frequent customer orders and sales growth. Shipping from the second center reduced transit times to customers considerably and reduced shipping costs from the one DC previous model.
Consider third-party logistics as an option
If you don't want to invest in an additional center now or ever, consider using a 3PL partner. This strategy will have dramatically lower start-up costs (e.g. building, systems, staff, technology and automation) and much faster start up time. Selection and implementation of a 3PL can be done in six months versus 12 months for leasing an existing building; or longer than 24 months for new facilities for site selection and build to suit.
We assisted a west coast multichannel retailer (hybrid B2C/B2B) with selecting an east coast 3PL facility for both direct orders and to move into the EU for wholesale distribution. The client chose to use the carrier's 3PL facility/services in the Netherlands to service the EU wholesale accounts.
Another client, a company with sales over $200 million, used 3PL to serve Canadian customers. Additionally, their homegrown warehousing systems did not have multi-DC capabilities for order processing and inventory management.
In a consumer e-commerce food company that had hundreds of SKUs, the objective was to find the optimal delivery cost and in-transit time (goal above 90%) with one day ground delivery. We analyzed the customer shipping data (current customer package delivery cost and weight to their destination). We recommended five US cities and vendors which could achieve this company's marketing and logistics goals. We achieved the one-day goal for 95% of the customer orders and the remaining 5% arrived two-day ground. The cost to open company owned fulfillment was cost prohibitive. Centralized fulfillment was not cost effective or met management objectives for in-transit.
Perform comprehensive analyses
Coming to the right decision for your company takes detailed assessment, estimation and planning of 12 factors:
Identify strategic objectives

. Forget whether you favor owned fulfillment centers or 3PL use – those are tactics proposed to answer the strategic initiative. What are the management objectives? It will be necessary first to identify the objectives and then the details of the current scenario. Examples of the data backing up the objectives might include: shipping cost, time in-transit, customer expectations for delivery and cost to them, etc.).
Site location study.

Our prior blog recommends a

process for conducting these types of studies

. We use the Bureau of Labor Statistics' comprehensive labor and employment data to aid in projecting payroll plans. The BLS' data is available by the 392 Metropolitan Statistical Areas (MSA) and includes potential management and hourly employee wage expenses for positions and unemployment by market, etc.





Additionally this blog discusses partnering with a commercial real estate firm that has online access to all the existing warehouses and build to suit construction pads available in the USA. These databases are a good starting point to understand what existing facilities are available.





This article

will help you determine your building requirements and trends in warehouse availability.





Combining the projection of salary and wage costs for the staff structure with the existing buildings that meet your requirements and the triple net lease costs, you have the beginning of the site location analysis of two major elements – existing buildings and labor cost and availability. This is not just a data exercise. The most important is the "boots on the ground" effort to tour and visit other warehouse operators to understand the potential marketplace.





Inbound freight from vendors.

Objective: Evaluate how potential new site locations and the existing DC will affect this expense. Would receiving inbound shipments in more than one location decrease costs because they are closer to the entry point into your supply chain? To analyze this, you need historical inbound freight costs for a year; the city originating the shipment or port of entry; the number of shipments from all vendors and the weight and expense of each. From this you can analyze which locations have the biggest impact on this expense.





Outbound shipping costs.

Objective: Evaluate how potential new site locations and existing location(s) will impact this expense. Determine the impact on outbound shipping expense and time to customer for each location. The historical data required is the detailed last 12 months or last calendar year of each shipment, the weight and the shipping costs, the carrier service level and the carrier zone this resulted in. For the potential new DC locations, determine how the cost, the zone shipped (and the time) are positively impacted. The outcome you'll want to see is how the addition of a location cuts the shipping time and expense and what percent of customers are served by each facility. This generates a lot of data, and using maps showing zones and percent of orders shipped helps depict the changes.





Staffing the facility.

Because the new DC is outside the existing labor market, your company will have to hire new senior fulfillment manager, department managers and hourly workers. With multi-DCs, there are major changes to purchasing and assortment planning for your company and requires an experienced planner. As mentioned, use Bureau of Labor Statistics data to determine the labor viability of the MSA market. Budget the cost of new hire and employee relocation, if any.




Additional inventory required. The increase in inventory required is a major consideration. Objective: Determine the inventory strategy for the centers. This is a complex topic that is not possible to discuss completely in a few paragraphs. Will all products be replicated in all centers? Will best sellers be in all centers and slow or average sellers be in only one center? Would ship-alone, heavy products be in one center only? If your product is lightweight and can be shipped using zone skipping, a multiple DC strategy doesn't have a payoff.

How much additional inventory is required to fill customer orders from multiple centers? Our experience is that a second DC adds 30% or more inventory dollars compared to a single DC. A third center may add 50% to the total for a single DC. Obviously, the increase doesn't automatically correspond to the company being able to achieve 30% and 50% higher sales without some major marketing and promotional changes. What is the risk of overstock and gross margin erosion? Read more about these key requirements in our article called, "Evaluating Inventory Costs For Multi-Distribution Center Processing."
Capital expenses and one-time costs.

These expenses will vary by potential sites, including the facility's build out expenses; installation of racking, MHE and conveyance equipment; moving expenses for product, etc

.





Start-up loss of productivity.

There is always a start-up period with lower productivity with the new facility, employees, systems and MHE use. Often there is higher than expected employee turnover. Plan the ramp up realistically over the initial months -- six months or longer for some facilities.





System functionality required.

Is your warehousing system totally capable of running multiple distribution centers without restrictions? Can the warehousing system process customer orders from multiple centers? Are there sufficient business rules in the systems to assign customers to DCs and allocate inventory by location to orders? Can business rules about back ordered items be set up to not fill from two DCs? Can your merchandise planning and purchasing systems record sales by location?
Business incentives.

Are there state and local development incentives for bringing new jobs to a region? This should a consideration only after you have decided on the right site from facility, staffing, outbound freight cost and time to customer perspectives.





Inventory taxes.

What are the state and county sales and inventory taxes that must be factored into the decision on location?





Risk analysis.

Evaluate all the risks by strategic option (examples: internal versus 3PL fulfillment; inventory strategy, etc.) and each location (examples: wage rate differences, sales tax differences; right to work state). Estimate the dollars of potential loss and probability of occurrence of each risk. Risks also include delayed construction or opening new leased DC; unplanned expenses and excessive employee turnover.
Presenting results
This type of study generates a lot of detail and supporting data. To help management see the key findings quickly, we recommend summarizing key analyses:
High level comparative analysis of options considered.

Prepare a side by side comparison of the pros/cons of the various options on as few spreadsheet pages as possible. Examples include 3PL versus internal, owned fulfillment for new center; and the merchandise strategies you are recommending.

High level comparative analysis of site locations considered.

Prepare a side by side comparison of the pros/cons of the best sites. Show increase or decrease of inbound and outbound freight; labor market viability and unemployment; staffing salaries, hourly wages and benefits; triple net occupancy costs; facility costs for build out, racking, conveyance, systems; freight cost to move inventory.
Risk analysis of options and locations considered.
Management will still want to review the details, but we have found these types of summaries helpful for focusing on the key factors of using multi-DC as a strategy.
Do your homework and your due diligence. Implementing multiple DCs is a major step for any company. For many companies, multiple DCs – either internally managed or fulfillment through 3PL partners – is the best long-term strategy for controlling shipping costs and shortening delivery time to customer.