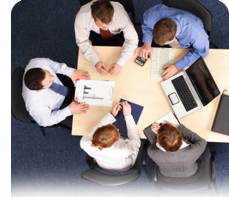 F. Curtis Barry & Company's strategic and business expertise can help you improve your existing catalog profitability, Internet profitability, or retail business profitability – or add channels to an existing business. We are catalog consultants with many years in the business offering expertise in a number of areas:
We have developed multi-year business plans that incorporate demand, cancellations and returns projections to net sales; sales projections from circulation planning; budgeting of marketing expenses including catalog creative, production, and mailing; expense planning for fulfillment and overhead; and capital expenditure planning.
We have assisted many companies with new channel start-ups, including retail store expansion and Internet and e-mail marketing and catalog tests. Our efforts encompass business planning, circulation planning, building customer databases and installing the systems required.
For a number of clients we have developed analyses of: net contribution to profit for multiple seasons/year-to-year; pages; import vs. domestic; varying price ranges; price point; catalog page and depiction; category and sub-category; private label vs. open market; style, color, and size; Internet vs. catalog; new vs. repeat.
We have developed requirements and sent out RFPs to vendors, assisted in vendor selection, and planned and overseen installation of commercial inventory planning and management systems for direct and retail businesses.
Request more information or get started with a project
Benchmarking Services and Our Executive Forum
F. Curtis Barry & Company has conducted benchmarking assignments for customer contact centers, fulfillment operations, and inventory management to see where the operation can be improved in terms of customer service, service levels and profitability. We provide analysis and comparison of your business to other multichannel businesses. Our overall objective is to improve your Internet, retail and catalog profitability and customer service.
Since 2001, we have facilitated a three-day Executive Forum annually for owners and senior managers. Forum topics typically include growing your Internet business, developing your brand, circulation strategies, fulfillment strategies, and expense-saving ideas. For more information visit our Benchmarking ShareGroups page.
Below are examples of the types of work we have completed:
Case Study 1
F. Curtis Barry & Company developed a five-year strategic plan for a billion-dollar, public, multichannel company. The plan included an analysis that led to inbound/outbound freight savings of $4.5 million annually, and development of a fulfillment process for three distribution centers, including a review and layout of one center. In addition, we introduced inventory balancing to help serve the client's customers better, and addressed the client's future needs by developing system requirements for cross-docking, inventory optimization, warehouse management, and planning.
Case Study 2
As catalog consultants, we assisted a major non-profit catalog to implement a net contribution to profit approach to analyze merchandise results and to plan categories and products for the next season. Implementing this approach created an increase in catalog profitability from break-even to an 8% gain.
For help with your e-commerce, retail or catalog profitability, please contact us at (804) 740-8743, e-mail him at info@fcbco.com, or use the "Request Information" form.
Strategic, Financial, and Operational Planning Articles
What Are Your Shipping Options?
In the next few weeks, all the carriers will complete their 2008 pricing announcements. As we look at the future, it's probably a good bet that these carriers' rates aren't going down any more than the cost of oil. So what's the impact and action plan for your business? Read more...

The Fulfillment Doctor on... The Price of Free Holiday Shipping
What are the underlying reasons behind offering free shipping and processing to customers? Is this common practice in other companies in the multichannel industry? Can anything positive come from giving free shipping to our customers? Read more...

The Fulfillment Doctor on...Employee Turnover...What Does It Really Cost You?
Many companies see turnover as a necessary cost of doing business, especially in managing a call center or a fulfillment center. However, have you taken a good look recently at your staff turnover levels and the actual dollars this costs your company? Read more...