Through the hundreds of operational assessment projects we have worked on over the years, we have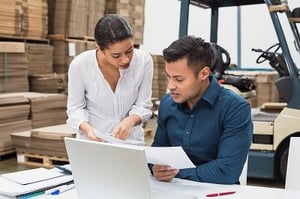 compiled the following quick-hitting list that will assist in reducing your operating expenses in the distribution center.
Here is a summary:
Efficient receiving. Inventory accuracy and product flow through the distribution center all start with receiving. The single biggest improvement companies can often make is to develop and implement vendor compliance policies.

Reduce freight costs. Outbound freight now exceeds direct labor in many distribution centers. Don't be too proud to ask a consultant to help reduce your cost of shipping and to help identify areas on your carrier contracts that will reduce your rates. Many times these consultants will work on a project basis or on a shared savings basis. There are too many dollars at stake not to have someone help you.

Put away. Look to reduce distribution center back orders and "can't finds" which may cost anywhere from 20 to 60 minutes to resolve.

Slotting. Through an operational assessment you will identify efficiency techniques that may include "hot pick areas" for fast selling products. The old 80/20 rule holds for most company's product sales.

Order Picking. Reduce the picking time—70% of picking time is walk time in the distribution center—by using the proper approach to fit your business (e.g. singles, cart/bin, batch pick and sort, zone pick, etc.). In many businesses, singles are more than 50% of the pick volume.

Reduce number of replenishments. Hold the equivalent of a week's unit volume in the forward pick locations.

Packing. Through an operational assessment you will find that both picking and packing amount to more than 50% of direct labor costs in the distribution center. Put packing supplies adjacent to the stations, and ensure you have the proper number of insert compartments, sufficient table top square footage, and adjustable height pack stations.

Returns processing. Returns cost more than orders. Eliminate the controllable reasons for returns (e.g. picking errors, copy and art errors, etc.). Streamline the receiving process to get returns processed efficiently, and refunds or exchanges back to the customer quickly.

Inventory Control. Inventory is the largest balance sheet asset in most businesses. Without accurate inventory you can't have sales or move orders efficiently in the distribution center. Use aisle mapping (proper location of product without counting) frequently.

Bar code scanning. When we conduct our an operational assessment for a client, we find that bar code scanning is the most underutilized technology in our industry. Maximize its use from dock receiving, to put away, to picking, pack confirmation, shipping, returns processing, inventory control and cycle counting. Speed product and order flow through the center. Increase inventory accuracy to 99.9%.

Effective warehouse layout. Look to increase capacity within the same facility and streamline product and order flow.

Work standards and measurement. You can't improve that which you haven't measured. Apply benchmarking principles to set up internal benchmarks. Use external benchmarking to understand what other companies achieve, and for best practice ideas.

Management of labor. Labor is more than 50% of the cost per order for call center and warehouse.

Developing a world-class team. There are 11 key issues you need to resolve, including staff empowerment, delegation, hiring competent people, recruiting and training the person who will take your place eventually, etc.

Use 3rd party logistics. Our clients have used 3rd party logistics more in the last five years than in the prior twelve years. Internal costs have increased to the point where, for many companies, on a total cost per order basis it's cheaper to use 3rd party logistics. Additionally, they avoid having to invest in infrastructure such as a new or second distribution center and a new order management system or warehouse management system. It also reduces the need to manage distribution centers, call centers and IT. Companies can instead concentrate on the critical areas of marketing and merchandising.