As you and your operations team begin down the road of performing an
operations assessment
to improve warehouse logistics, it can quicky begin to feel overwhelming. If you know the right areas to cover and focus on, the process will be much smoother and produce better results. One key tip is to allocate certain parts of the
warehouse assessment
, or warehouse evaluation, to different team members. Within any supply chain strategy, it is important to remember that data is imperative. The
first step in your assessment
should be to gather all important data related to the warehouse operations.
As warehouse consultants and having performed many assessments over the years, we have developed the following key areas that an assessment needs to cover.

6 Areas to Focus On During Your Operations Assessment

Warehousing and Distributing Systems
It is imperative to review the software supporting all
warehousing and distribution functions
. For many companies, they are utilizing an ERP or order management systems. Other companies utilize a warehouse management system (WMS). Regardless, these systems must support the current and future needs of the organization. Analyze the system being used and determine the
gaps that create inefficiencies
.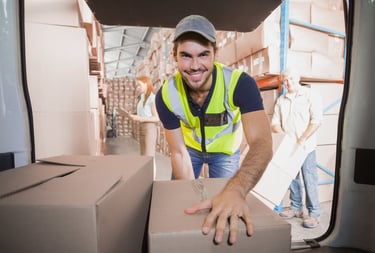 The
key areas to review and assess
within your systems include:
Inventory management and tracking, including the use of barcoding and scanning
Cycle counting
Locations and bin management
Picking logic
Receiving, putaway, and min/max replenishment logic
Support of product slotting
Productivity reporting and tracking
Understand if the gaps are something that your system can support, or if an upgrade or additional module is necessary. If the severity of gaps is large enough – you may need to invest in a WMS to support your needs. Your systems will either be an asset in getting new processes implemented or a deterrent due to lack of support.
Review the Current Processes
As discussed above, your WMS will have a lot to do with how much process improvement and changes can occur. However, this is an area that should receive a lot of your focus regardless.

Each functional area should be reviewed for improvements and ensure that they are running smoothly. Be thinking of ways to save time or eliminate steps. Even small changes can add up drastically over time. The functional areas below should be included in your fields to cover.


Receiving, putaway and replenishment
Picking, packing, and shipping
Customer returns
Kitting and value add services

Facility Layout and Design and Material Handling Equipment
The facility as a whole should be reviewed, from a space utilization perspective, as well as efficient movement of goods and people.

The flow of goods and people through the facility can have a big impact on the total time spent. Can functional areas be rearranged to make them optimal and reduce touch points as well as travel distances?

From a storage standpoint, be sure to focus on the utilization of both square feet and cubic feet. Does a reprofiling effort of locations make sense? Could racks be added in different areas to increase capacity? Don't forget to explore staging space needs, for both inbound, outbound, and other areas as needed.

Material handling equipment, or MHE, should also be reviewed. Does the conveyor make sense to move products from one location to another? Should a vertical lift module, or VLM, be explored to gain a lot of capacity in a small space? Are other automation options viable candidates?
Product Slotting
The proper slotting of your items will help increase your throughput and decrease the number of replenishments needed.

It is important to look at the data from your initial data collection process and see how much a certain product moves in a given amount of time, say a week, on average. It is beneficial to then ensure that the size location that the product is in can hold that given amount.

Additionally, you should look at what items move the most, and which items move most often with other items and slot them accordingly. Whether it be closer to the beginning of the pick path, or within the "golden zone" for picking (not too low and not too high within the bay) moving product around can drive warehouse efficiency gains in both picking and replenishment.
Review Your Picking Strategies
Most companies attempt to pick all items and orders using a single picking methodology, or strategy. This does not make for the most efficient manner of picking. Having the right picking strategies in place can help increase your throughput and drive lower labor needs and costs.

An example of implementing multiple picking strategies would be to batch pick all single line, single unit orders together. Segmenting these by themselves can speed up both picking and packing. Whereas, multi-line, multi-unit orders could utilize a zone-based batch pick.


Evaluate if other picking strategies make sense for your business, such as:
Cart bin picking
Zone-based batch picking
Zone-based pick and pass
Labor and Performance Metrics
Be sure to examine your organizational structure. Is there a need for supervisors in between the workforce and the warehouse operations manager? Make sure that there is a separate "big picture" type manager at the top to deal with special projects and other important tasks without needing to worry about the day-to-day operations.

You will need to look at the data to see where your utilization of your workforce is currently. Anything below 80-85% utilization will open the door to questions as to why it is lower. If you can raise this number, you will effectively be getting more throughput with the same amount of labor as before.

Lastly, look at your performance metrics. If you are not tracking anything, this is a great time to start. Make sure everything is where it should be, and if it isn't, begin to ask questions and dial in further as to why not. Tracking performance is also a great way to reduce costs. If you can get more productivity out of your current labor force, that can eliminate or postpone the need for additional headcount.

Ensuring you have a roadmap before you begin, highlighting the areas of importance that need to be covered, can greatly help to efficiently use your time and make sure no area is forgotten or looked over. Remember that a methodical approach will get the best results.