The Chinese military strategist, Sun Tzu said, "Strategy without tactics is the slowest route to victory. Tactics without strategy is the noise before defeat."
How does this apply to modern day fulfillment and Supply Chain? Many fulfillment centers spend much of their time implementing reactive tactics without ever thinking through the strategy of what they are trying to achieve. The terms tactic and strategy are often confused and incorrectly used interchangeably.
Strategy defines your fulfillment organization's long-term goals in alignment with the business objectives and how you're going to get there. The most effective fulfillment strategies are integrated or synched up with the company's overall business plans and goals.
Tactics are more specific activities involving the assessment of the problem, the development of options and a sound decision to proceed. Tactical decisions are then made developing project plans and tasks, using appropriate best practices, identifying the resources needed to achieve the end result of the strategy and starting initiatives to implement.
In short, strategies are the destination you're trying to reach. Tactics are the activities that you need to do to get there.
No two companies will have the same strategies and tactics. We recommend performing a strategic assessment of your supply chain and then identify customized tactics to fit your business objectives.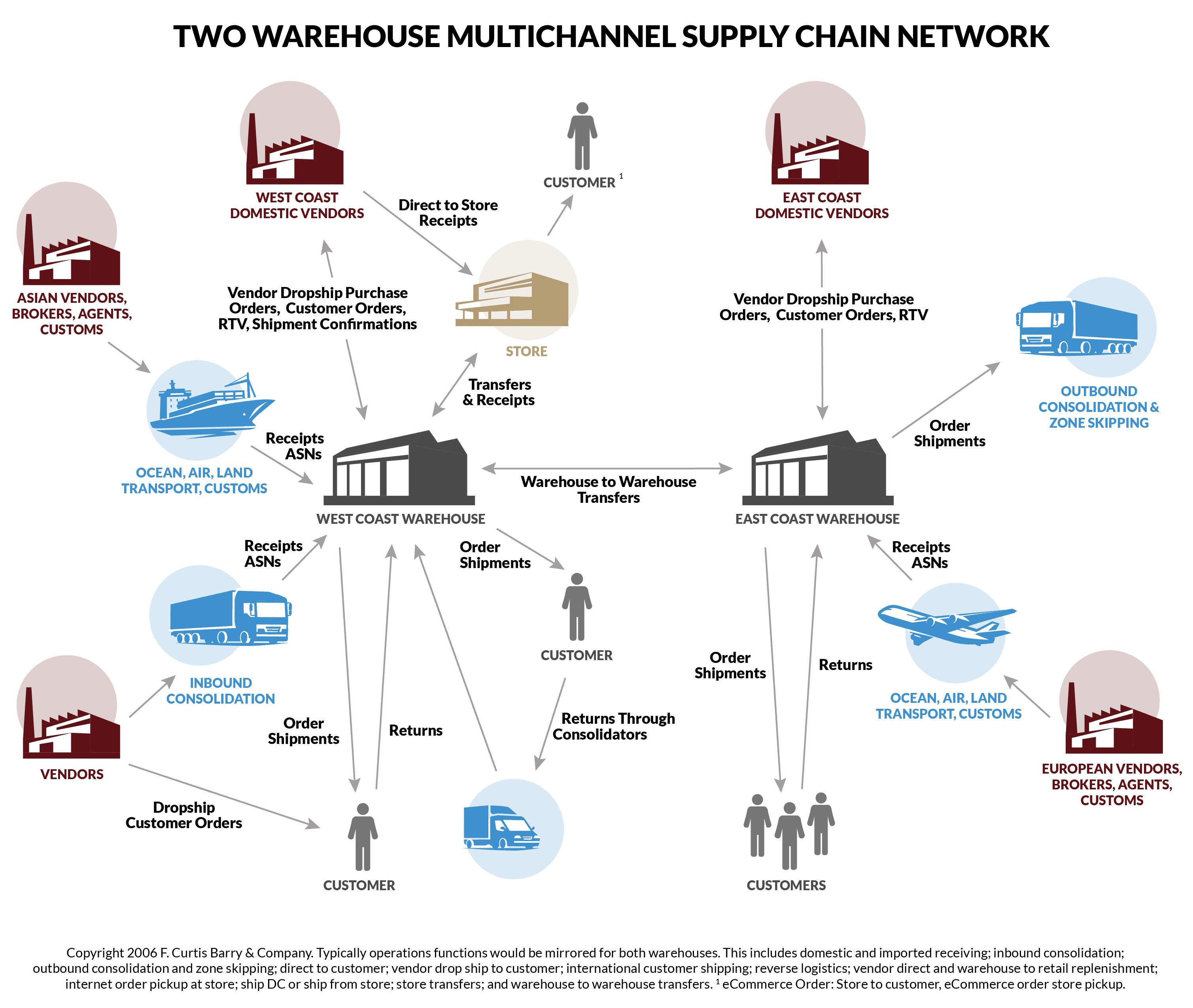 A typical multichannel Supply Chain including Warehousing, Distribution, Information Technology and Transportation Services.
Supply Chain and Fulfillment assessment
Defining your strategies starts with an assessment of your Supply Chain and company fulfillment center. This assessment should include a warehouse operations audit or assessment, which will help you determine if your warehouse operation is as efficient as possible. Take into account quantitative and qualitative aspects of the warehouse operations, processes, and systems.
First, assess your center's processes and costs, then answer these questions:
How can you spend less on labor in your warehouse to receive product and fill orders?
How can you ship to the customer in the least amount of time and expense?
How can you improve inventory control to eliminate warehouse back orders, or periods of temporarily not being able to find product, and shrinkage?
How can you increase your existing space's capacity to store product?
These questions address universal challenges, regardless of distribution or warehouse size or the industries you serve.
READ: How to Reduce Fulfillment Expenses by Streamlining Your Supply Chain

10 Supply Chain strategies
Each company's Supply Chain and challenges are different, so strategies are not a one-size-fits-all game. Here are 10 major strategies we are consulting on with multichannel ecommerce, wholesalers and distributors. Only proper assessment and alignment to your company's goals make it the strategy for you:
1. Make the inbound Supply Chain more efficient
Regardless if you're an omnichannel retailer or a pure play ecommerce business, getting inbound products and materials on-time and as ordered is a major initiative in many companies. Your objective should be to receive the product so that it can flow through to put away or be cross docked to fill orders.
Assess what current problems exist and what costs are absorbed in reworking non-compliant receipts in both the fulfillment center and back office.
Determine which vendors cause the majority of the delay and cost problems.
Implement tighter computer systems between vendors and your company through EDI.
Implement vendor compliance programs.
Determine what inbound and fulfillment activities such as ticketing, final inspection can be done cheaper and faster upstream in Supply Chain.
Determine how receiving dock and truck yard congestion can be reduced or eliminated.
READ: 11 Ways to Improve Dock to Stock Processes


2. Lower shipping cost and delivery time
Your customers expect you to compete with Amazon in terms of delivery time frames. Be responsive by getting their orders to them quicker and at a lower shipping cost.
Investigate multi-distribution center operation. Make sure to take into account costs to set up the operation in terms of additional facilities, staffing, and management.


3. Increase capacity of the existing warehouse
Moving to a new center is not always the answer. Without the proper layout and design of your distribution center, no matter the square footage, you will face capacity issues, decreased productivity, and storage inadequacies. By addressing some basic principles, your company can delay a move to a new facility.
Address the 28 key principles that you should consider for warehouse layout design and productivity.


4. Increase paperwork accuracy and decrease processing time
One of the foundation technologies for warehouse systems and automation is implementing bar code technology. Barcodes let you track the "what," "who," and "when" for all activities within the warehouse's four walls. Making barcode usage one of your first strategies will pay immediate and future dividends.
Use barcode technology in areas such as receiving, put away, replenishment, picking, packing, shipping/manifesting, returns, cycle counts, value-add functions, and labor tracking
5. Manage labor more effectively
Most fulfillment centers and warehouses rely on manual labor, which is not cheap. If you can't achieve a favorable return on investment in applying automation, managing labor more effectively should be a major strategic goal for your fulfillment center.
Consider how changes in labor can lower cost per unit, line, order and carton shipped.
Read our blog post on tips to manage labor more effectively and identify opportunities for your business to improve productivity.


6. Increase the number of picked orders per day
Order picking is one of the most important functions in the warehouse. Order accuracy and timely order fulfillment are keys to a successful customer experience. Picking and packing are generally the two areas where companies can also gain the most significant labor cost savings.
For larger distribution centers, voice picking, pick-to-light (and put-to-light), picking modules and robotics automation may give a return on investment for many applications. But, they must be designed to your facility, products and material handling.
Read our blog post on picking methods and pick the best options for your business.


7. Use current warehouse space more efficiently
Warehouses are expensive for companies to operate considering the total fulfillment costs of labor, occupancy, and storage and material handling assets. Often, warehouse space is 15 to 20% of the cost per order.

Increasing capacity of the warehouse should not be confined to changes in space use and increasing stock locations only.
Perform a space use study and determine solutions that take into account the warehouse layout, product flow, labor efficiency, storage and material handling options, safety, throughput, and warehousing system functions.
READ: How to Improve Space Utilization in Your Fulfillment Center


8. Reduce outbound shipping costs
This is an on-going initiative in every client's business. The cost of outbound shipping exceeds the sum of all other fulfillment costs. It will continue to go up because of the lack of options.
Look at your shipping data. What room is there for better negotiation of rates? Do you use rate shopping? Can an enterprise wide shipping system lower costs?
Identify ways to address these 11 areas of savings resulting from using shipping systems.


9. Use of third party logistics versus internal fulfillment
Should your company continue to maintain and operate its own fulfillment facility? Can you achieve faster delivery with multiple distribution centers from a third-party logistics (3PL) provider? This strategy isn't for every company, but many large companies make cost effective use of 3PL.
Use our Guide to Third Party Fulfillment to decide if a 3PL is right for your business.
Continue to use our Guide to Third Party Fulfillment as you select, contract, and implement 3PL.
10. Select and implement a new information systems
Whether it's an ERP, OMS or WMS, this strategic objective is one that many companies should have. Many companies need new systems as a foundation for more advanced technologies and automation.

However, as you evaluate this strategic objective, be aware that studies show and our experience confirms, about 50% of the larger installs (those spending over $1 million) are not delivered on time or within budget. These projects sometimes put companies at risk because of the costs and implementation approaches.
Avoid ineffective project management since it is the root of large system implementation problems.
Assign these 18 responsibilities to the assigned project manager.
READ: Who Will Project Manage Your ERP or OMS Implementation?