Often, parts warehouses and inventories do not receive the attention needed to ensure that they operate efficiently and remain accurate. Some reasons we see this are that management perceives that parts departments don't generate income for the company and they assume that parts should be easy to manage.
This mindset, along with failing to manage your parts systematically and failing to utilize warehouse inventory best practices, can be problematic. If the focus is ever turned to fixing these problems, you may quickly realize that it will be difficult and potentially painful.
Fortunately, there are things that can be done that will help ensure that problems don't arise, and your parts warehouse will run smoothly. An accurate parts inventory system allows the parts department to be more proactive and responsive to the plant. Companies can save significant dollars by not having to expedite a part when in fact it is already on-site in the warehouse. Here are seven spare parts inventory management best practices for managing parts inventory more effectively:
1. Systematically identify all parts
When equipment is going to be down for a major overhaul, there may be several items that are purchased for a one-time use. Because of this, some of these parts may not be a stocked item and not created as a part record in the inventory control system. Once the machinery overhaul is completed, there may be unused parts which have future use and should be inventoried. Other equipment in the plant may be able to use these unused parts. Rather than maintenance storing these parts in a box, work bench or cabinet somewhere, the items should be added to the inventory control system and placed into parts inventory.
2. Utilize and Manage the Bill of Materials (BOM)
BOMs will make ordering parts and placing work orders much simpler. Additionally, make sure that your BOMs are kept up to date. The worst thing that can happen is to start creating inventory inaccuracies because a part was not added, changed, or removed from a BOM.
Having accurate BOMs will also assist you with scheduled preventive maintenance (PM) that is needed on a given piece of equipment. In some systems, the PM schedule will generate a work order with the scheduled date of the PM.
3. Streamline the work order process
One way to improve spare part efficiency is to have a strong but simple work order process that can be followed by everyone. Work orders need to be created for all parts issuance so that inventory remains accurate. Develop a work order process that is not overly complicated but ensures that all necessary information is passed along. If it is too complicated or there are ways to get parts without a work order, you will find employees not using the desired process and inventory inaccuracies begin to occur.
Have a process where non-emergency work orders are placed in advance. Work orders requested in advance can be pulled and staged for pickup or delivered to the requesting department. This will reduce the maintenance department's wait time at the parts warehouse for their work order to be fulfilled.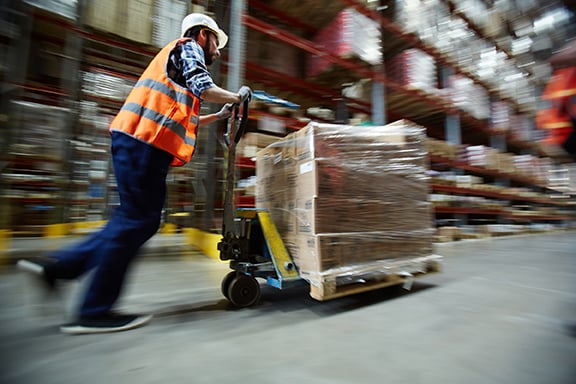 4. Adopt security measures
Ensure that effective security measures are taken in the parts warehouse. Several critical practices should be considered. Limiting access to the parts warehouse inventory is crucial to maintaining inventory accuracy. Adopt a policy that parts inventories are "off limits" and only parts department employees have access.
The first way to insure this is to adopt physical security measures such as parts counters that prevent employees from entering inventory stock locations and pulling parts required. Allowing everyone to have access can quickly make parts inventories inaccurate.
The second practice to help assist in this objective is to install security camera systems and begin utilizing badge access to entry and exit points. Additionally, equipment such as vertical lift modules for spare parts provide strict security.
5. Centralize and consolidate parts
Where possible, centralize and consolidate satellite parts inventory into your main parts warehouse. Having all your parts centralized and consolidated can make security easier but also makes this potentially large asset easier to control and maintain inventory accuracy.
6. Utilize an Inventory control system
By utilizing your ERP's warehouse functionality or a warehouse management system (WMS) -- and not spreadsheets -- to manage your parts inventory will ensure accuracy and ease of managing your parts warehouse. Also, utilizing barcodes and scanning functionality in conjunction with the system will greatly enhance the efficiency of the processes in the parts warehouse and improve on inventory accuracy.
7. Give every part a stock location so employees can easily locate
Ensure that stock locations are created at the lowest detail (typically a bin and slot location for each SKU) allowed by your systems. It can be difficult for employees to locate a part if the location identifier is a shelf where many other parts are in a shared location.
By instituting the above recommendations, you will be able to have better control over your parts inventory and provide faster and accurate fulfillment of work orders and other parts requests.