---
Everyone wants to see how other multichannel and omnichannel companies apply automation and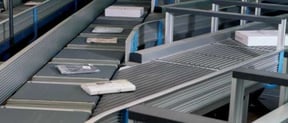 technology to their fulfillment operations. What are the benefits, challenges and the ROI? My panel at Operations Summit 2015 showcases how Cabela's, Crutchfield and Colony Brands (formerly Swiss Colony) have implemented automation and material handling solutions. These fellows are four of the most talented multichannel and omnichannel leaders I know.
Bill Helt, senior manager of fulfillment operations, Colony Brands, addresses different methods of picking they apply to their numerous brands, orders and products. Additionally, Bill gives us an inside view of their new highly automated pick to order system, Colony Brands is currently installing. Bill gives insight to the efficiency gains they expect from the material handling solutions.

Kevin Thompson, senior systems manager – distribution of Cabela's Inc., will share the benefits and challenges of how Cabela's has implemented voice enabled technology not only in picking but cycle counting, receiving, pack confirmation, shipping, replenishment, put away and other applications.
Scott Collignon, senior director of supply chain operations, for Cabela's discusses their omnichannel fulfillment from their 68 stores (by end of April 2015) and for DCs and discusses the voice enabled theme. Their omnichannel distribution and systems strategy let's Cabela's service an extremely high percentage of the customers in minimal time; store fills orders preserving sales when a DC may be out of stock; and they help in the liquidation process. Scott also addresses what he sees as the future for Cabela's and a number of areas including same-day delivery.
Then from Crutchfield Corporation, Chris Groseclose, senior director of fulfillment talks about their highly automated material handling solutions installed last Fall. He covers the major changes to picking, packing, shipping and the ROI for the project. the system includes Packsize On Demand Packaging System installed to reduce shipping charges and DIM charges and corrugated use as well.
This is a power-packed session filled with knowledge and information. Watch this YouTube video of Chris and the Crutchfield system in action to see what you'll miss if you are not there.
Sometimes it's hard to get the big guys to share their forward thinking ideas but not at operations Summit 2015. We will see you at the show!