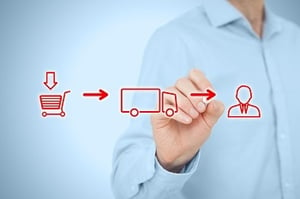 For more than 30 years, we have assisted clients in the selection, evaluation, and implementation of third-party logistics (3PL) projects. Clients using 3PL fulfillment and logistics span a wide range of companies and industries.
These include consumer ecommerce, wholesale and distribution, traditional retail companies, pharma, collateral distribution, and more. While the benefits of 3PL fulfillment are advantageous for a variety of businesses, outsourcing logistics isn't for every company.

It is important to fully understand what the benefits of companies using a 3PL are, and how it applies to you. When evaluating 3PL logistics services, consider that it could be for certain aspects of your operations, or all your fulfillment processes.
Here are the major ways that partnering with a 3PL can improve your supply chain.


3PLs Help Reduce The Cost Per Order
Working with a 3PL can provide cost savings on a cost per order basis when compared to internally managed operations. This is usually the case for companies that don't have four-season businesses.
By aggregating numerous clients into a single facility, a 3PL is able to invest in greater technology and automation. These investments often exceed what a single business could do on their own. Most 3PLs have already invested in the following automation, or are making investments for the long term:
Warehouse Management Software (WMS) and inventory management software
Voice picking technologies
Automated picking solutions and goods to person technologies
Automated unit and order level sortation
Conveyance systems

In these instance, 3PL reduces costs and improves order fulfillment time beyond where companies could take them internally. Additionally, it can mean lower shipping costs by using volume carrier discounts offered by the 3PLs.

Read: How to Compare Internal Fulfillment Costs to Third Party Logistics
3PLs Lower Capital Investment
Additional advantages of third party logistics is the ability to reduce or avoid capital outlays. This could be from not investing in new or upgraded warehouse facilities to support fulfillment.
These logistic solutions can also help to eliminate needed investments in warehouse management systems and automation.

3PLs can help avoid these types of projects which often distract time and resources from servicing the customer. These major projects often have timeline and cost overruns that affect the operations.
3PLs Change Fixed Costs To Variable Costs
With internal fulfillment, more than 50% of the total costs of fulfillment are labor. There is a fixed investment in facilities, material handling, conveyance, and IT systems irrespective of the transactions processed.
When you're using 3PL services, this is not the case. You can expect to see the cost of transaction processing rise and fall with volumes processed.

Fulfillment and distribution require major capital investment in facilities, systems, and technology – and automation. When all of these costs are taken into account, your fixed costs for facility, MHE, and systems are variable costs.
Variation is the cost based on the usage of product storage space and services for orders and returns.
3PLs Reduce Time-To-Customer And Shipping Costs
Large retailers such as Amazon, Walmart, Target, and Wayfair have such significant reach from a distribution perspective. They can easily deliver in two days or less utilizing a variety of facilities and shipping methods. Customers are highly influenced by the delivery time and shipping cost when choosing where to make a purchase.
These now include same-day delivery options. Small to mid-sized retailers can benefit from 3PLs by being in strategic locations across the US. By having multiple facilities, 3PLs can now reach 85-95% of the US population in a two-day ground shipping model.

Retailers and distributors could not afford to expand their distribution network and facilities to meet this same model.
3PLs Provide Scale at Peak Times
There are two major advantages of 3PL logistics to assist companies with handling high growth, these include:
Efficiently handling holiday peak
Expanding the distribution capabilities needed to meet your strategic plan
During peak, some clients see a 10x+ order ratio compared to non-peak. Using internal fulfillment during peak typically leads to several challenges. These include recruiting, hiring, and training peak staff while addressing greater capacity needs.

As businesses grow, 3PLs can scale up to increase staff and product storage capacity. This eliminates the time consuming and costly activities involved in recruiting and training new employees.
3PLs Allow Focused Management Time
A 3PL allows companies to concentrate management's time on core competencies, such as marketing, merchandising, and ecommerce analysis. Several clients has used a 3PL solutions for 25+ years for this very reason.
Some companies, such as manufacturers, are very disciplined at supply chain management. Yet, they understand fulfillment isn't their core competency. For these companies, entering a new channel such as ecommerce could distract from other responsibilities.
This is where leveraging 3PLs in the supply chain can be an advantage.


Using 3PL Fulfillment and Logistics Profitably
Here are several examples divided into six categories of how businesses use 3PLs profitably:
3PLs for Ecommerce Order Fulfillment
Brick-and-mortar retailers sometimes contract with 3PL partners to ship direct orders from their ecommerce websites. They understand that fulfillment of ecommerce orders is not their core competency.
Additionally, their facilities are not setup to support ecommerce picking and shipping.

Smaller ecommerce businesses can often benefit from 3PLs by lowering costs in off-peak times. For companies just getting into shipping, it will be less expensive to implement a 3PL than building out internal fulfillment.

As the unemployment rate remains low, it's harder to find quality and available warehouse labor. Businesses have a harder time recruiting, hiring, and training staff, this another 3PL advantage over doing it yourself.
3PLs For International Order Fulfillment
Many of our 3PL consulting clients use 3PL partners to ship customer orders worldwide. One example is a large multichannel wholesale and ecommerce client uses a combination of internal fulfillment and 3PLs:
Their West Coast internal DC receives 100% of the purchases for all products and ships customer orders to the western states. The West Coast DC also replenishes a 3PL facility serving the eastern US.
The eastern 3PL has only best-selling products to reduce inventory costs.
The client uses a small parcel carrier's 3PL facility in the Netherlands for EU ecommerce and wholesale customers. This facility manages all customs documentation and EU processes.
Similarly, a large gift company uses a 3PL facility in Canada to fill ecommerce orders across Canada.
Many 3PLs have complex shipping systems, which ease the preparation of international shipping documentation and maintain international shipping rates.


3PLs Assist with Implementing Big Box Retail and Amazon FBA Compliance Policies
Many companies are selling products through marketplaces and Big Box retailers such as Amazon, Wayfair, Walmart, Target, and others. These companies all have stringent vendor compliance policies and IT requirements as a condition for doing business with them.
Companies often choose to use 3PLs that already have this IT capability, rather than building that expertise and implementing systems internally.
3PLs Help To Increase Sales
We find that 3PLs are becoming more involved with the sales support of client businesses. Here are several examples:
Third-party logistics can assist you with managing multichannel platforms connecting to marketplaces and big-box retailers such as Walmart. This creates new channels for product offerings.
Some 3PLs have IT functionality to support unique brand and marketing strategies. For decades, 3PLs have specialized in marketing fulfillment, such as direct response TV, subscription programs, and club plans. These are high-volume transactions for a short duration where not all customers get the same product each month.
Another strategy some companies are employing is vendor dropship. Companies can increase their sales by supporting drop ships from Big Box retailers. Retailers often do not want to expand the SKU assortment inventory in their warehouses. This can lead to significant increases in volumes.
3PLs Expand The Distribution Network
Many of the larger 3PL companies have anywhere from a handful of locations to dozens of sites across the US.

An Armed Services client contracted a 3PL to distribute tens of thousands of products through two major cross-dock facilities. These 3PL DCs replenish hundreds of stores located on dozens of bases in the US and Asia. The base DCs were aging and required major facility upgrades and new WMS systems. The 3PL solution provided a faster time to implement and at a much lower cost.

Several clients have implemented multi-node 3PL strategies. Each has a central internal fulfillment center that receives products and replenishes four 3PL DCs. This multi-DC strategy allows companies to reach 90% to 95% of the customers with one or two-day ground delivery.
3PLs Provide Reverse Logistics and the Processing of Returns
Several large 3PLs specialize in reverse logistics and returns processing of ecommerce orders and retail stores. Typically, these are high return categories such as apparel, shoes, and electronics.

3PLs that specialize in this area typically offer:
return processing
customer credits and refund transactions
merchandise disposition of the returned product
testing and potential repair of electronic products
refurbishment and repackaging of apparel and shoes for resale in a timely manner
staging and transporting returned merchandise to your DCs or stores
These services can be cost effective and streamline return processes and functions.
3PLs Process Inbound Ocean Freight And Distribution To DCs And Stores
Many of our clients use 3PL to process and ship bulk orders to DCs and stores. Here are a few examples:
A large distributor of women's apparel uses a 3PL to receive color/size items in bulk. Their customers are department and women's specialty stores. Store orders are picked, marked, and packed for shipment to customers' DCs.
Another wholesale client uses the same type of receipt, breakdown, and shipment to major discount and department stores.
A manufacturer and wholesaler of high fashion footwear utilizes a 3PL for distributing 3.5+ million pairs of shoe. A high SKU assortment like this can be costly to manage internally.
A health and beauty business combined fulfillment operations into one 3PL location to cut costs. With their 3PL, they can still reach their customers within 2 to 3 days of ordering.
A high-end gift business on the West Coast utilizes a 3PL to fulfill orders for their East Coast customers. Our 3PL consulting also selected a 3PL vendor in Europe to fulfill orders to their UK dealers. This saved money on shipping and got the order there faster.
The tourism board for a West Coast state selected a 3PL to send collateral on travel and site seeing. 3PL fulfilment isn't just for consumer goods and products.
Summary
3PL Fulfillment and Logistics isn't for everyone. However, we have assisted clients in researching and implementing 3PL for high customer service and cost effective fulfillment applications.
A fully loaded cost study of 3PL versus internal fulfillment options is key to understanding the financial benefits. In many cases, using a 3PL can be faster to implement than internal fulfillment, and at a lower cost.


Need help with your 3PL evaluation? Read: How to Select the Best 3PL For Your Business