During the last recession, new warehouses were not built on a speculative basis. Once the market began to rebound, construction of new buildings could not keep up with the consumption of available space. As a consequence, the nationwide warehouse occupancy rate in most markets is at an all-time high in the mid-90%s.
Defining your company's warehouse and distribution requirements involves some forward planning. Not only do you have to accurately plan your current space needs but find a potential facility that meets a high percent of your requirements needed for growth. If suitable buildings are not available, then a longer-term strategy of build-to-suit (BTS) is necessary. Regardless of which option (lease, purchase, or BTS), identifying the detailed space requirements is the crucial first step before touring buildings.
Here is a 15 point checklist to help you identify your current space use and future growth requirements:
Clear Stack Height
The clear stack height is the useable height for storing products, supplies or inventory within racking and shelving. This is measured from the bottom of the facility's bar joist, lights, sprinkler heads or duct work – to the concrete pad. It is critical to know your max pallet height, the total pallets high you are planning to store, and what the minimum clear height is.
If you select a building that is too low, you will require more square feet of storage. You also must keep in mind local code requirements as most municipalities require at least 18" to 36" of clearance from the sprinkler heads.
According to recent industry research, warehouses built in the 1960s average 24 ft. Today's warehouses are now approaching 40 ft high, allowing far more product storage capacity. Warehouses beyond 40 ft require specialized high reach fork trucks.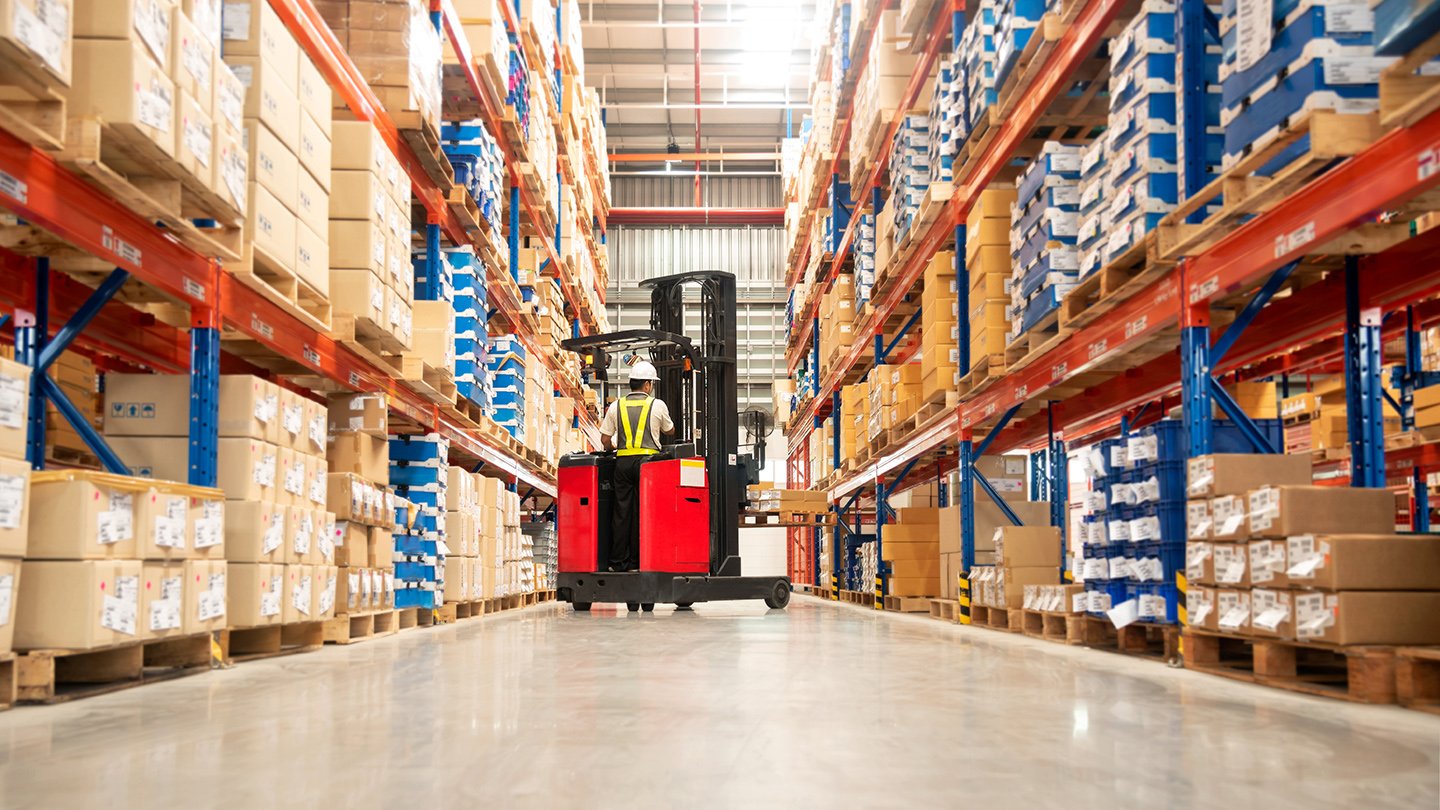 Total Square Feet
During each step in determining your space needs, it is vital to take into account inventory and order volume growth. The space requirements need to align with the number of years you intend to stay in the facility.
Prevent under sizing the facility by considering the clear height when determining total square foot requirements. Be sure to take into account how much space you need for receiving, staging and inspection of product. If you require a dedicated picking module or pick zone, you will also need to determine the bulk storage in relation to the clear height, as well as picking of inventory.
When planning space needs, don't stop at determining the current SKU counts. Consider how SKU growth and inventory growth will impact the number of bulk locations and pick bin requirements. Will inventory turns be constant or changing? How will this impact the storage space required?
Also, consider space required for packing, shipping and staging for outbound orders. Wholesale distribution and manufacturing typically requires much larger outbound docks and staging awaiting routing, etc. for LTL and TL shipments. Whereas, consumer driven businesses can typically live load small parcel trailers.
Don't overlook determining the space required for plant or facility maintenance, offices and breakrooms, kitting or other value-added services, conveyors and automation, and returns processing.


Dock Doors
This is one area many companies underestimate and always wish they had more of. Consider how many dock doors you need for inbound receiving of goods, consider future growth, and how containers may impact needs.
On outbound docks, consider what carriers you currently ship with and how that might change in the future. How many different carriers (LTL, TL and small parcel carriers) and how many different sorts are required? Will you have carriers drop trailers throughout the day, impacting the useable doors?
You will also need to make sure you have the right number of doors by type. Most multi-tenant facilities have typical dock height doors and may not offer any ground height doors or ramps. These can be extremely helpful for bringing in large equipment and other items. Companies receiving or shipping with small parcel carriers using delivery trucks may want to consider doors suited for these trucks.
Lastly, determine if you will utilize doors for compactors and recycling. These will impact the number of usable doors for the facility.


Dock Equipment
For pre-existing facilities, consider what dock equipment you require and the condition of that equipment. Most newer buildings typically come with dock shelters/seals and pit, or hydraulic dock levelers. Dock shelters are important for minimizing hot or cold air from entering the facility as well as dirt, rain, bugs and rodents. Hydraulic dock levelers are preferred over edge of dock levelers and manual dock plates. They are safer and easier to operate. Check that all dock doors are in good working condition.
The landlord should provide properly functioning levelers and shelters that aren't worn out. These do require some maintenance and repairs over time, but are essential to a well-run facility.
Determine what other dock equipment your company requires and whether the landlord or builder will provide these. You may need dock locks and safety lights to ensure trucks don't pull away prematurely. Additional needs might also include inside lighting for seeing inside the trailer, as well as safety barricades for empty docks.


Electrical Requirements
This is an often-overlooked aspect of a new building. If you have a fleet of lift trucks and stock pickers, you want to ensure the facility has enough capacity to support the charging requirements. Even small to mid-sized facilities can present challenges. Often times, lifts require 480V 3Phase, but not every facility handles this capacity. One solution is running new service, which requires permitting and could take at least two months. A quicker potential solution is asking if your lift truck manufacturer offers an alternate charger.
Consider power needs for conveyors, automation, and other equipment needed for manufacturing and light assembly. Lastly, don't forget power requirements for small parcel sortation.


Building Shape and Footprint
The building's shape significantly impacts a facility. Buildings that are "L" shaped are just as bad as buildings that are long and skinny. Leased buildings with multiple tenants where expansion is linear creates problems with workflow and travel time. They disrupt flow and can create additional walking, which adds cost. Consider how you will utilize the facility and the overall flow from receipt through outbound.
Understand how other aspects of the building will affect flow and productivity. Try to minimize or eliminate offices or any obstructions along the dock. Keep a clear view of the dock (both inbound and outbound) to effectively manage the work and processes. At times, older manufacturing facilities may have appealing aspects, but may also have overhead cranes, etc. that impact clear height or useable floor space. Some buildings may have structural columns that are very closely spaced creating issues in rack aisles.
Buildings with odd turns or corridors can end up creating unusable space. Understand how all these facets of a building could negatively impact your operations.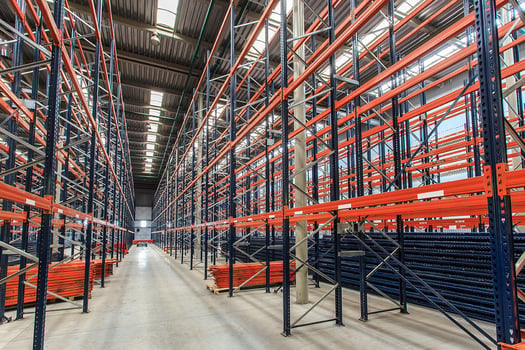 Truck Yard
Determine your needs for inbound and outbound staging of trailers. Your needs today could differ vastly in two to three years. Will you have inbound carriers dropping trailers or containers that could impact the number of trailers at the building?
Some companies choose to keep certain supplies like corrugated boxes or merchandise in trailers at peak times so they can drop them at a dock door. Will you have similar processes and, if so, how many trailers will you need over the life of the facility?
For outbound shipping, many companies need drop trailers for handling peak volumes. This may mean keeping empty trailers in a yard to quickly swap at the dock as needed from trailers in the yard.
Many multi-tenant facilities have minimal yard capabilities and could impact flexibility.


Floor Condition
Evaluating floor condition prior to signing a lease is important. As buildings get older and forklift and order picker traffic increases, the floor's surface may break down. When this occurs, the floor is harder and harder to clean and maintain.
Consider the overall floor condition and how it will impact your operations. For companies with manufacturing equipment, older buildings can pose an issue with floors that aren't level or have imperfections. Will you require the floor to be resealed before occupying the space?
Floors that have significant damage should be repaired by the landlord prior to occupancy. Constant jarring and impacts will certainly drive up your maintenance and repair costs on lift trucks.


Working Environment
For most companies, warehouses are not conditioned spaces. However, sufficient airflow and ventilation is critical. Companies should consider the functions being performed, such as pick zones and assembly, and the working conditions in these spaces. For companies requiring climate controlled or humidity-controlled space, you may need to outfit a pre-existing facility. It is important to accurately determine the current and long-term needs for the facility.
Most companies struggle with lighting in the warehouse. They develop a rack design that unfortunately requires the moving of existing lighting. In addition, the lighting must be sufficient to read pick documents and racking labels. High efficiency LED fixtures and providing sufficient lighting can have an ROI within 18 to 24 months based on energy savings.


Safety and Fire
Understand the product classification, sprinkler, and storage requirements in the county where the facility is located. Ensure there is correct sprinkler head placement, sufficient water flow and capacity for the building. Based on the local building codes, how high can you store different product categories? Regarding employee safety, how long does it take to exit the building?


Employee and Visitor Parking
Determine how many parking spots you need currently and through the life expectancy of the building. This can often lead to problems for companies. Are you a multi-shift operation with overlapping shifts? If so, how will this impact the number of spaces required?


Breakrooms, Bathrooms, and Lockers
What are your needs based on the number of employees? Typically, bathrooms and breakrooms are undersized. If it's a large facility, will you want multiple bathrooms in the facility? Will you need employee meeting space and how large of a room will you need?
Transportation Access
What is the optimal facility requirements for truck traffic including local roads and proximity to interstates? Do you need easy access to ports or rail?


Building Expansion
Once you have determined what your space needs are, look at the building in terms of building expansion. Is there sufficient acreage for expansion, parking, and truck transportation? Was the building designed in terms of "knock out" walls and docks?

What are the possibilities for additional dock doors? Can a mezzanine be added? Our blog discusses how mezzanines can add storage and throughput capacity to warehouses.


Make an Action Plan for Building Evaluation
With all of these details, itemize the requirements by year for the time horizon the building needs last, for all department areas:


receiving dock size, staging for checking, marking, quality assurance
auxiliary functions (e.g. kitting, personalization)
storage space for product
packing stations
common areas for aisles
employee areas
returns processing
shipping dock sizes.
From these detailed space requirements, develop a spreadsheet to allow a succinct side-by-side comparison of each facility and how well each facility meets your requirements. Our blog discusses forming an action plan for the project and a move plan for the facility you select.

Moving fulfillment into a new facility is a major investment and expense to companies. Many times, teams end up under-sizing the new facility and companies run out of space faster than expected. Following these planning steps will help you improve space planning accuracy.